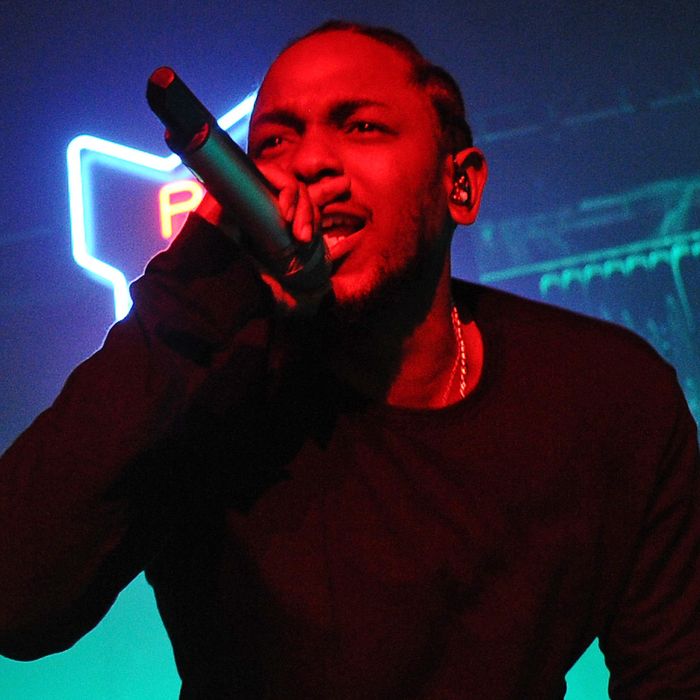 Photo: Ilya S. Savenok/Getty Images
"Every nigger is a star."

That bold self-affirmation, taken from Jamaican singer Boris Gardiner's 1973 soundtrack cut, welcomes you into Kendrick Lamar's latest opus, To Pimp a Butterfly. It's also what plays him off the stage at his Kunta's Groove Sessions tour, a brief run at small-capacity, "intimate" venues, which stopped at New York City's Terminal 5 on Monday night. Originally planned for Webster Hall but moved last-minute, the show carries the album's opening mantra close to the chest, upending Kendrick's black-boy flyness with theatrical merit that should have Lin-Manuel Miranda taking notice.
At just five-foot-six, dressed in all black, and with his hair now in the braids we saw him getting done on the cover of Rolling Stone, Kendrick makes for a demure stage presence. He's backed by a small but mighty band, dubbed the Wesley Theory (after Butterfly's intro), which he maestros like he's been conducting the Los Angeles Philharmonic since his early Compton days. Watching Kendrick at work with his crew, you start to get a clear picture of him in the studio shepherding instrumentalists at the top of their respective games (Kamasi Washington, Thundercat, Robert Glasper) through his vision. This vibe, which no bitch has dared to kill, was made for the stage — one that Kendrick adorned with a tapestry of black streamers and a red neon sign that reads "Pimps Only." New York City doesn't have many great jazz clubs left, but that's the spirit Kendrick called upon last night.
Evoking Joe Cocker's wild arm movements, Kendrick attacks his set list with the stamina and brute strength of an Olympic athlete. His lyrical dexterity might even stand out more live than it does on the record. In an era when most rappers will perform abbreviated versions of their hits and guest verses, with overreliance on backing tracks, Kendrick pronounces every last syllable. There's not a moment when one of his verses gets reduced to gobbledygook for the sake of speed (or to disguise a greater lack of lyrical prowess). He'll deliver an encore of his instant-classic verse "If Pirus and Crips all got along …" from m.A.A.d. city five times if that's what it takes to get the crowd to match his unwavering decibel level when it's time to mimic Schoolboy Q's gunshot roar of "YAWK YAWK YAWK!"
Midway through the show, following a dizzying run through of back-to-back Butterfly cuts and good kid, m.A.A.d city hits that've aged beautifully ("Backseat Freestyle" mixed with Eazy-E's "Boyz N' Tha Hood" was an early favorite), Kendrick hinted that this may be the last time he performs Butterfly in its entirety. "They call this the album of the year, album of this generation, but for me it was therapy," he said the LP, the culmination of multiple treks 'round the world behind good kid. Interacting with thousands of fans every night, he says, was eye-opening for his growth as both an artist and a human being, but there's nothing like getting to look his "core motherfucking following" in the eye like he did all night at the diverse 3,000 people packed into T5. "When shit hits the fan, is you still a fan?" he demanded of those nearest to him at center stage, on the album's introspective outro, "Mortal Man."

In late September, Kanye West commemorated his ahead-of-its-time 808s & Heartbreak, performing it in full for the first time at the Hollywood Bowl. Like Kanye, Kendrick is mindful of his music's rare influence (and how easy it is to misuse it), but it won't take Kendrick seven years to acknowledge the legacy of even his months-old masterpiece. He understands the immediacy of his songs and how they've taken on a life of their own. After aggressively powering through "The Blacker the Berry," he emerges from under the pimp sign for his encore to chants of "We gon' be alright" — the crowd sounding eerily similar to the group of Black Lives Matter activists who used Kendrick's new national black anthem, "Alright," as a rallying cry at a Cleveland protest against police brutality in August.
For nearly ten minutes, he looks up and listens to the venue shout his words back at him, leading the crowd in an Isley Brothers "Shout" exercise. "We gon' be alright!" they screamed, Kendrick pointing to the rafters. "We gon' be alright," they whispered as he playfully shushes them. And with that, Kendrick culminated his metamorphosis into a star with one of 2015's best rap tours.