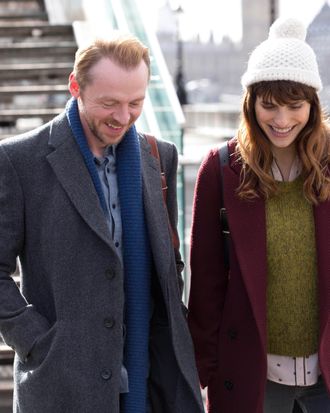 Did you hear the meet-cute gimmick of the British romantic-slapstick farce Man Up? Lake Bell plays a 34-year-old single woman whom a 40-year-old divorced man played by Simon Pegg mistakes for his blind date, and — given that she seems to be more in sync with him than she was with her last few dates — she doesn't tell him the truth, opting to see where the evening will lead. Given that her decision is so gutsy, it's strange that the movie comes down to other characters telling her that she needs to take more chances and risk disappointment — to "man up." But this is not a film that suffers from the hobgoblin of consistency.
It does have its funny stretches. Writer Tess Morris and director Ben Palmer make a strong choice and have the courage to see it through: Every character — every character — is a crazed extrovert babbling at a foolishly high speed, often wincing in embarrassment but never even considering closing his or her almighty yap.
The pitch is fevered from the start, when the New York–born Bell jabbers at herself in a mirror in a middle-class London accent — a risk in an era when Brits feel entitled to impersonate Yanks willy-nilly but Yanks are too spooked to speak the Queen's English. It took me a while to get used to her. But her Adult Swim years make her an old hand at hurtling tempos, and soon she and Pegg are pulling faces and popping their eyes and growing progressively drunk and slaphappy.
Man Up is best when it's pure farce — when Bell is lying her bloomin' arse off pretending to be someone and something she isn't, and when she's recognized in a bowling alley by a former classmate (Rory Kinnear, all in) who turns out to be the stalker she never knew and who blackmails her for sexual favors. It's more wearying in the last third, when it goes the standard rom-com route of separation followed by the requisite mad dash across the city in the name of love.
The good thing is that Brits have classical farce in their DNA in a way Americans don't, some of it having drifted across the Channel from cousin Feydeau in France, some of it via Wodehouse and Ben Travers and playwrights who exploited the 19th- and 20th-century English tension between high manners and low impulses. Even a second-rate farce like Man Up can be a jolly pick-me-up. Its momentum alone made me very happy.