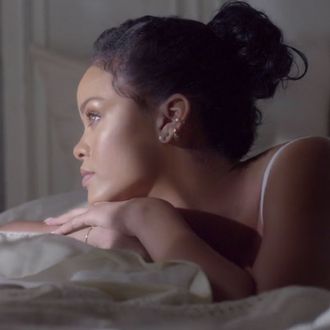 We're fast approaching the one-year mark since Rihanna gave fans the first morsel of her eighth album, Anti (a.k.a. #R8). Way back in January, she released "FourFiveSeconds" with Kanye West and Paul McCartney, and the whole world rightly assumed that 2015 — like most years over the last decade — would belong to RiRi. But then a couple more songs came and went, and the world watched on as Rihanna occupied her time adopting puppies and dropping sock lines, seemingly avoiding the studio altogether. Well, we may finally have proof that Rihanna hasn't just been trolling: During last night's AMAs, Rihanna made her presence felt, despite being a no-show, by releasing a series of creepy commercials with Samsung (a reported $25 million deal, mirroring the one Jay Z inked two years ago for his last album) teasing something called ANTIdiaRy. Take a look:
What the hell is ANTIdiaRy, and why should you care? It appears to be both a website and a mobile game (exclusively for Samsung phone users, obviously) leaving clues to unlock Rihanna's new album via keys to rooms in her strange fuhouse that you can tour on the app. Those keys are apparently connected in some way to an Instagram account called iamthekeyholder, which has various cities in the U.S. both geotagged and tagged with Rihanna's crown-wearing stick-figure art. It's not entirely clear what that's all about or how much more we'll learn (trust that her Navy will figure it out soon enough), but there are unconfirmed reports that Rihanna's prepping to surprise-drop Anti this week. If true, she's said to be releasing her album exclusively on Tidal on Black Friday before letting everyone else hear it on December 4. In any case, gorge yourselves with turkey this week; you're gonna need the sustenance no matter what Rih's up to.
Update: Rihanna has announced a massive world tour with Travi$ Scott, the Weeknd, and Big Sean.