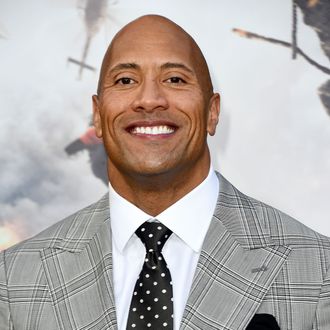 Stay strong, Dwayne.
Photo: Frazer Harrison/Getty Images
The Rock is no stranger to tackling dudes, but he recently opened up about tackling depression in an episode of OWN's Oprah's Master Class series. He was brought to tears (making him 15 percent sexier, according to some polls, probably) while discussing "a real low point" in his early 20s. "You just feel like you're alone," he said. "You feel like it's only you. You're in your bubble." The polls are also saying that a majority of people wouldn't have minded joining him in the bubble to be on the receiving end of a giant, tall, Rock-shaped hug. The Rock has since overcome his depression, and advises others to "have faith that on the other side of your pain is something good." Great, now we're crying.