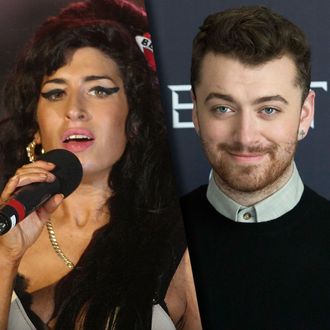 You're gonna love this.
Photo: Getty Images, Corbis
Sam Smith has been covering Amy Winehouse's "Tears Dry on Their Own" for quite some time, but perhaps because he got hold of a certain other British singer's Rolling Stone cover and saw said singer expressing her love for Amy, he's covered another one of Amy's masterpieces, the should-be-untouchable "Love Is a Losing Game." He debuted the cover (which will appear on the Drowning Shadows rerelease of his debut album) on Annie Mac's BBC show today, acknowledging that it's a "monster of a song" to cover. But, like Adele, he says he was so moved by the Amy Winehouse documentary that he felt compelled to honor her work with another, properly recorded cover. It's gorgeous and exactly what we've come to expect from Smith's vocal ability, but sadly it'll never replicate the emotional impact of Amy's original. (Just watch her sing it herself.) In other news, Smith says he's four songs into his second album and already has a title for it, which means the Adele–Sam Smith comparisons likely won't stop any time soon.