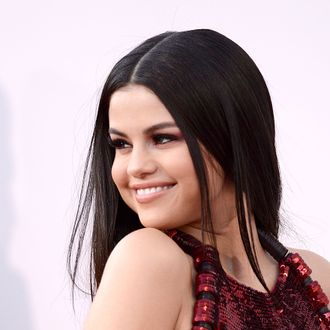 Sorry, not sorry.
Photo: C Flanigan
Selena Gomez, a healthy, attractive 23-year-old with a hearty libido and the ability to realize that Zayn Malik looks smoking hot right now has taken it upon herself to make the world know that she's in if he is. In a cover interview with InStyle UK, the undoubtedly media-trained Gomez responded to rumors that the two had dated by saying, "If he had asked me out on a date, I would be seen with him. Just kidding, but not kidding."
Gomez went to say that she is dating right now, but that she hates it: "It's hard and I'm weirded out by the idea that a guy has googled me before we meet, and that has happened." (Note to Zayn: Selena knows you found this interview on Google, but it would be tacky to bring that up.) And she's also frustrated by the way that men approach her: "I feel like I look 16 sometimes, which is a bummer because I would love to date older guys." (Zayn was born on January 12, 1993, while Selena was born July 22, 1992, which might seem like a sticking point — until you realize that Justin Bieber was born March 1, 1994.)
Further proving her mastery of the celebrity profile, Gomez also dropped a choice quote about the Biebs, who was recently seen serenading her with "My Girl." "It's really hard because I'm a nice person," Gomez said. "I'm just tired of talking about it. I never intended for my life to become a tabloid story." (You know who else recently talked about wanting to escape the tabloids? That's right, Zayn Malik.) In another, touching bit of the profile, Gomez talks about how she's still very close with her mother, and how she returns to her childhood home to stay grounded. (You know who else does that? Just guess.)
Does this whole thing seem too choreographed, too perfectly imperfectly precise, like a line in a Taylor Swift song? Look no further than Gomez's pal Taylor Swift, who counsels her on issues of love. "I'll be like, 'I think I totally screwed up,'" she said, "But Taylor says, 'Actually, you didn't,' and shows me how to make my mistakes into something great." (Remember that Taylor knows both how to encode a secret message in media coverage and that she also knows her way around a One Directioner.)
Get it, Selena.