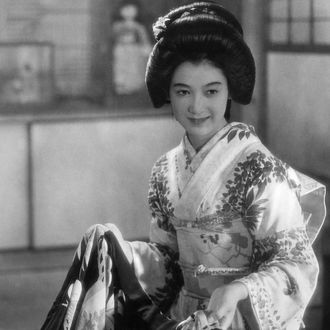 Setsuko Hara, a Japanese actress best known for her work in the films of Yasujiro Ozu, died of pneumonia on September 5, her family revealed to the press today. She was 95. Perhaps best known for playing a widow who befriends the parents of her late husband in Tokyo Story, Ozu's 1953 masterwork, Hara also appeared in several other iconic postwar films before retiring from public life at the age of 42.
Born Masae Aida in Yokohama in 1920, Hara made her screen debut at 15 in Don't Hesitate, Young Folks (1935), and later starred in the German-Japanese propaganda film The Daughter of the Samurai in 1937. After World War II, Hara worked with Akira Kurosawa, in No Regrets for Our Youth (1946) and Hakuchi (1951) (the director's adaptation of Dostoevsky's The Idiot), and Kozaburo Yoshimura, in A Ball at the Anjo House (1947). In 1949, she appeared in her first Ozu film, Late Spring, which marked the beginning of an artistic partnership that would last through five other projects, including Early Summer (1951) and Tokyo Story (1953), and ending with Ozu's second to last film, The End of Summer (1961).
Known for portraying independent women who come into conflict with the expectations of traditional Japanese society, Hara's performances were marked by a simultaneous depth and restraint. At the height of her fame in the 1950s, after starring as a series of roles as especially dutiful women, Hara was given the nickname "the eternal virgin." But Hara often brought more depth and intelligence to the screen than that moniker implies: In a exchange from Tokyo Story, for instance, after being asked, "Isn't life disappointing?" her character responds, "Yes, it is," with a small, but determined smile.
In contrast to many of characters' commitment to tradition, Hara ended her career with a startling break from expectations. In 1962, near the time when Ozu succumbed to cancer, the actress announced that she was done making films, giving little explanation for a choice that stunned the Japanese media. She lived out the rest of her life in Kamakura, a seaside town that was the setting for many of her films, never married or had children, and refused all press interviews and appearances.