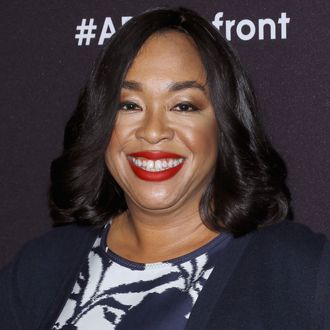 Queen of Shondaland.
Photo: Jim Spellman/Getty Images
Clocking in at 127 pounds lighter, Shonda Rhimes sat down with Ellen DeGeneres to discuss her new book The Year of Yes. Citing her children as a reason for her weight loss, Rhimes said, "It really was about the fact that I have a 3-year-old and a 2-year-old and a 13-year-old and I kind of wanted to be around for them. I'm going to fall over because I don't feel good." Rhimes explained an incident where she was on an airplane and couldn't buckle her seat, which was an embarrassing moment for her. "It wasn't the seat belt. It was me," Rhimes said. "And I decided that I would risk just flying outta my seat because I wasn't going to say anything."
Rhimes went on to say that she decided to work as hard on her health as she does in her professional life, and now look at her, she's serving body-ody-ody and promoting her first book.