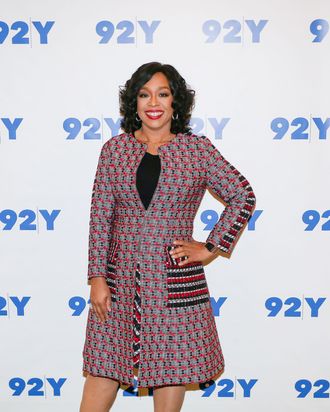 Shonda Rhimes.
Photo: LauraMassaPhoto
Shonda Rhimes spilled a few details about her new book, Year of Yes, and ShondaLand's four ABC shows during her talk at 92Y in New York Monday night. While Rhimes still hasn't figured out how Grey's Anatomy will end, she knows exactly how Scandal will. And, of course, she's not telling.
I used to know exactly where Grey's was going when I thought we were only going to do a season or two. And now it has evolved into a different journey. I know where we're going to end up at the end of each season. I've stopped trying to know where we're going to end up in the end because now it's just a life. At this point, it's 12 years. We're inside Meredith's life. I'm dying to know where her life ends up. Scandal, I know where it ends. I know exactly where it begins and where it ends.
She also revealed that ShondaLand's new show, The Catch, which is set to replace How to Get Away With Murder's 10 p.m. Thursday time slot, will premiere in March.
Rhimes said that if she had to act on any of her shows, it would be playing a surgeon on Grey's Anatomy. "Or maybe I'll be a patient lying on a table." And after 12 seasons of running a hospital drama, she thinks she's closer than ever to fulfilling her dream. "You guys, I am totally a surgeon. I have 12 years of fake-surgery experience. If one of you dropped right now I would crack your chest and stick a wire in you. Anyone in my writers' room knows to not go anywhere near going into labor anywhere around me. I'm very excited about performing a C-section." Shonda, for everyone's sake, put down the scalpel and go write another pilot.