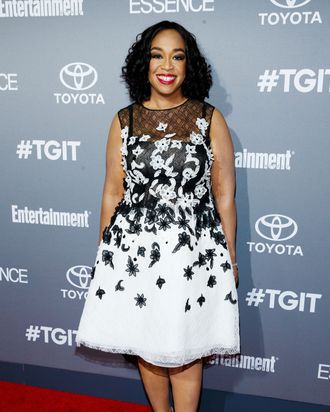 Shonda Rhimes.
Photo: Mark Davis/Getty Images
Shonda Rhimes's Year of Yes, available today, is less a memoir than it is a self-help book. For one year, one of the most powerful showrunners on television said yes to everything. She said yes to commencement speeches, yes to accepting more help, and — you guessed it — yes to herself. She spent more time with the people she loved, shed 127 pounds, and learned how to be a happier person. In this way, Year of Yes is not a burn book. It is not a ribald tale spilling hot industry tea. There are no VH1 behind-the-scenes moments explaining how Isaiah Washington was fired from Grey's Anatomy or what went down with Columbus Short on Scandal. There are no "What if?" casting scenarios. Instead, there are small, charmingly odd, inspirational stories, like how she reacted to the Red Wedding scene in Game of Thrones to how writing Cristina Yang was writing the woman she hoped to become. Quite simply, it's a book about how she learned to take care of herself, and how you might be able to as well. Welcome your new life coach, Shonda Rhimes.
Olivia Pope gets her red-wine-drinking habits from Rhimes.
Even when she was riding high with Grey's Anatomy and Scandal, she writes that she was "miserable." "Truly, deeply unhappy." As such, she had one thing she turned to at the end of the day. "And at the end of every day, as a reward, I poured myself a glass of red wine. Red wine was the only joy in Shondaland."
Rhimes felt the pressure of being a black, female showrunner, or what she calls an F.O.D. — a "First Only Different."
"When you are an F.O.D.," she writes, "you are saddled with that burden of extra responsibility — whether you want it or not." She felt the pressure when she dodged questions about diversity or race. "You can't be raised black in America and not know," she writes. "This wasn't just my shot. It was ours." And then she referenced that pivotal moment when we meet Olivia Pope's father on Scandal:
I was doing a thing that the suits had said could not be done on TV. And America was proving them wrong by watching. We were literally changing the face of television. I was not about to make a mistake now. You don't get second chances.
Not when you're an F.O.D.
Second chances are for future generations. That is what you are building when you are an F.O.D. Second chances.
As Papa Pope told his daughter Olivia: "You have to be twice as good to get half as much …"
I didn't want half. I wanted it all. And so I worked four times as hard.
She met Toni Morrison and all she wanted to talk about was Grey's Anatomy.
Her first big "yes" was accepting the role as the commencement speaker at Dartmouth, her alma mater. She closed by telling the graduates that she once wanted to be Toni Morrison. But that when she actually had dinner with Toni Morrison, "all she wanted to talk about was Grey's Anatomy."
She remembers nothing about getting interviewed by Oprah.
"Here is what I remember about being interviewed by Oprah. A white-hot flashing light behind my eyes. A strange numbness in my limbs. A high-pitched buzzing sound in my head. So, y'know … nothing. NOTHING."
She constructed her first Shondaland in the pantry.
She calls herself an introverted, "unusual" kid who was more content to play in her own imagination than out in the world. One of the things she liked to do was play in the pantry for hours with cans.
The world I created inside the small closet filled with canned goods and cereal was serious; these days I would describe it as a winter-is-coming-where-are-my-dragons kind of solo play date but this was not HBO. This was the suburbs in the 1970s ... My three-year-old imagination made a world of its own. The big cans of yams ruled over the peas and green beans while the tiny citizens of Tomato Paste Land planned a revolution designed to overthrow the government. There were hearings and failed assassination attempts and resignations. Every once in a while, my mom would open the pantry door, flooding my world with light. She'd politely tell me she needed vegetables for dinner. The canned judiciary would sentence a can of corn to death for treason and I'd deliver the guilty party into the hands of the executioner.
And that, everyone, describes everything that's happened in Scandal.
She ran around the room when she watched the Red Wedding scene of Game of Thrones.
One of her favorite shows is Game of Thrones. And the Red Wedding? Whew. "I literally run around the room. I do that sometimes. When I get overly excited, I run around the room. I did it during the Red Wedding scene of Game of Thrones. I did it when they picked up the pilot for Grey's Anatomy to series."
She wants to make it clear that she gets help at home.
She writes a great deal about her nanny Jenny McCarthy (no, not that lady), whom she describes as "the SEAL Team Six of nannies." "I've read a lot of books written by and about working women and I'm struck by the fact no one ever seems to want to talk about having help at home," she writes. "Which I think is not so helpful to the women who don't have help at home." So she's declaring it proudly: She has a nanny and she loves her.
Cristina Yang on Grey's Anatomy was the woman she aspired to be.
It wasn't just you who loved Cristina Yang. Shonda Rhimes loves Cristina Yang fiercely and passionately. She isn't simply a character for Rhimes, but a woman who could be what she felt she wasn't. Ending her story was one of the hardest things she had to do. "I am going to miss Cristina Yang so much that my heart hurts," she writes. "I'm not sure how I'm going to cope." She elaborates:
This Cristina that [Sandra Oh and I] made was a revelation. She was never silenced. Never small. Never too insecure to make good on her natural gifts. The Cristina of our collective dreams is larger than life and sure of her genius. And, as drawn by us, while often afraid, our Cristina was able to overcome her fears through sheer strength of will. She made bold choices. She felt fearless even when she was terrified …

The fictional person Sandra and I made is beautiful and intimidating. Put Cristina up against any real person and there is no contest. No one else stands a chance. It's unfair and awful. And not at all a way to measure a real human being.
And yet. Who the hell cares?
She is the goal. She is freedom.
And that, of course, is why I created her. And I think why Sandra created her. For me, she was not just what I imagined. She was what I needed.
In the acknowledgments, Rhimes returns to Cristina Yang. She remembers a conversation she had with Oh when she told her she wrote this book so that she could learn to speak up for herself. Oh asks, "What did you do with something if you were too afraid to say it before your Year of Yes?" Rhimes replies, "YOU said it for me."
Sometimes you have to say No to say Yes.
Speaking of Oh, she was not the network's first choice to play Cristina Yang in Grey's Anatomy. Rhimes writes that they wanted to cast "some actor" as Cristina who everyone thought was great. "I honestly can't remember who the actor was … everyone thought she was great." (See what we mean about the lack of gossip?) But she felt in her gut that the actor wasn't right for the part, so she said No, in what was her "first" professional and "favorite" No. Then she found Sandra Oh, and the rest was magic.