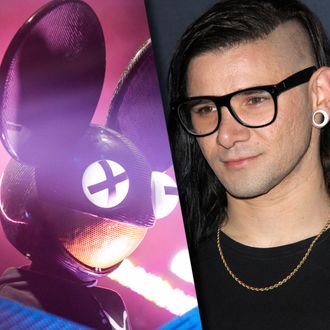 Grab the popcorn.
Photo: Corbis
EDM's most laughable feud continues: Earlier this summer, when Deadmau5 took a gander at Skrillex and Diplo's "Where Are Ü Now," the dance-music purist took shots at the two producers, calling the song "shit." Skrillex went on to blast the mau5 (whose label, mau5trap, Skrillex had previously been signed to), telling a radio station, "He's an asshole and everyone knows it," which led to some #sorrynotsorry tweets from the mouse-head about his admitted asshole behavior. Fast-forward to early Sunday morning, and the two are still going at it. This time, Skrillex stirred up more beef with his former boss in a series of seemingly unprovoked critical tweets aimed at Deadmau5's managerial skills.
Never one to ignore an opportunity to speak his mind, Deadmau5 began his snarky rebuttal:
Like every other argument on Halloween, it ended (for now) with a costumed selfie, ruminations on EDM's "interesting paradigm," and a PSA on bullying:
Is it too late now to say sorry?