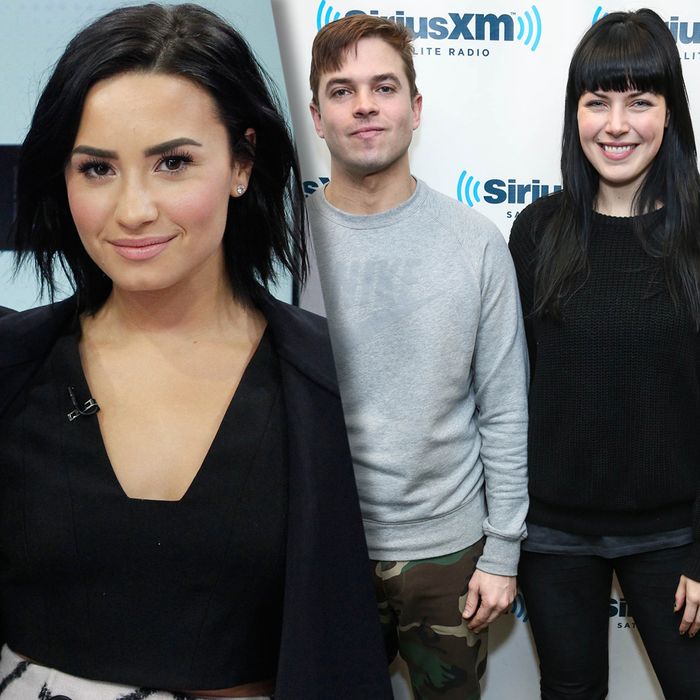 On Monday, Brooklyn noise-pop duo Sleigh Bells accused Demi Lovato of sampling two of their songs without clearance on her new song "Stars." The songs in question — "Infinity Guitars" and "Riot Rhythm" — are both featured on the band's well-received 2010 debut Treats and include distorted guitars, angular rhythms, and a danceable beat with just the right amount of irony and piss. Sleigh Bells' biggest hit to date is "Rill Rill," which samples "Can You Get to That" from Funkadelic's Maggot Brain and was used in a 2013 iPhone commercial. As far as indie acts go, Sleigh Bells are pretty big, so it's not unreasonable to assume the producers of "Stars," Carl Falk and Rami Yacoub, have heard their music.
"I can confirm that the band feels their music has been sampled without proper clearance and are seeking all available remedies with [Lovato's record label] Island Records," a Sleigh Bells rep said. Meanwhile, Falk and Yacoub released a joint statement: "We did not use any samples in Demi Lovato's song 'Stars.' Demi was also not involved with the production. She only wrote top line." (Lovato herself declined to comment.)
There's no doubt that "Stars" shares some suspicious similarities with "Infinity Guitars" ("Riot Rhythm" is less obvious), but is it enough for Sleigh Bells to have a case? Vulture reached out to Jeff Peretz, a professor at NYU's Clive Davis School of Music who has often spoken on copyright law, to explain the technical aspects of Sleigh Bells' accusation, and to get his opinion on whether the band's claim would hold up in court.
If douchebaggery were a crime, this case would be closed.
Despite the producers' statement, Peretz feels confident that "Stars" uses a modified sample of "Infinity Guitars," just looped and with the addition of a hi-hat. But he also points out that the two songs are melodically and harmonically different. "['Stars'] goes to a pop-style chord progression and ['Infinity Guitars'] doesn't, so they're not the same, mathematically speaking. But it's definitely a style bite, for sure, and therefore they may be guilty of douchebaggery, but the math behind it does not add up to be copyright infringement. ['Stars' is] leaning very heavily on Sleigh Bells, Yeah Yeah Yeahs, Ting Tings — that kind of taking-the-piss-out-of-the-cheerleader mentality, with a rock beat beneath it. It's a very Brooklyn-esque kind of style from the mid-2000s, but the bulk of the song is not that."
Copying a style has never been illegal, but people are starting to think it should be.
"Stars" is more of a hat-tip than a ripoff, but the "Blurred Lines" decision — in which Robin Thicke and Pharrell were penalized for copying a "vibe" from Marvin Gaye's "Got to Give It Up" — changed the rules. "People are starting to think there should be a way to copyright style," Peretz says. "It used to be, in art, if you can't copy style, then where do you start? If I'm a blues-guitar player, if I can't write a 12-bar blues like everybody else who's ever played the style did, then how can I do what I do? Mathematically speaking, we're all going to be barking up the same tree. It's not like there's this untapped wealth of sonic resources that we haven't already discovered. We're just reorganizing the same seven ducks." Tom Petty echoed this sentiment after he settled a small copyright kerfuffle with Sam Smith regarding the similarities between "Stay With Me" and his song "I Won't Back Down." "These things can happen," Petty wrote. "A musical accident no more no less. In these times we live in this is hardly news."

Sampling music in the Age of Ableton, and the need for new guidelines.
As Peretz points out, producers "don't need a guitar player in the room to get the guitar sound — you just need a good sample of a guitar, and you can chop it up and make your song out of it." This new era in music-making is raising difficult questions about the provenance of source material, with two main schools of thought on the issue emerging. "There are those who don't think it matters because it's about the collage, and those who are policing the process by trying to sniff out every last bit of a sample and milking that for what it's worth." Artists are more litigious than ever about protecting their music, but Peretz says we need new guidelines. "In the heyday of hip-hop, when artists were sampling music left and right, a set of rules were established to help guide a judge or jury as to what was being done: Is the sample a key part of the song? How long is it there for, and will it fool the listener?" To eliminate ambiguity and more animus among musicians, he says a similar system should be developed for the Age of Ableton.
"There are no rules."
"Basically, when people who know the Sleigh Bells song hear the Demi Lovato song, will they be confused in thinking that they're hearing the Sleigh Bells song?" Peretz surmises. "I don't think that's the case. I think it's close enough to the line to be fucked up, but not close enough to the line to be against the law. The beat [of the two songs] is kind of the same, but that's it. I would not be confused by that beat, and I don't even know where Sleigh Bells got it. The only issue I can see legally is the sample-clearance issue, but again, [the 'Stars' producers] cut it up, and that's one way to get around having to pay for it, to cut it up and use it differently. They used one measure of 'Infinity Guitars' and looped it in a different way than Sleigh Bells did. So whereas sonically it's reminiscent because it's the same sound compressed the same way, the pattern is different, and it leads to a whole different song."