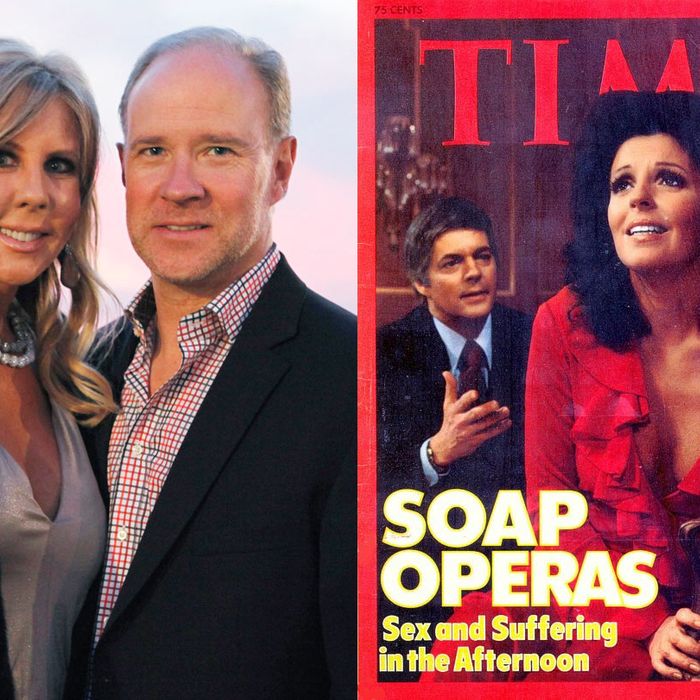 Fake Cancers of Our Lives.
Photo: Bravo; Time
Reality television borrows heavily from soap operas: affairs tearing families and friends apart, catfights, and long, dramatic pauses when something shocking happens. Of course, no institution does it better than The Real Housewives franchise. You'll practically believe you're watching Empire, Dynasty, or Days of Our Lives when you tune into events like the Giudice family facing prison time, Kenya Moore and Phaedra Parks battling over a workout video empire, or Brooks Ayers faking cancer. With Ayers's admission that he fabricated medical records, we've truly reached the final frontier of borrowing from soaps.
You'd think that people whose lives are under a microscope wouldn't attempt to do something as insane as faking a disease, but the revelation of Ayers's bogus cancer on The Real Housewives of Orange County wasn't even the first time cancer was faked on the franchise. In a season one reunion episode of The Real Housewives of Atlanta, Kim Zolciak claimed to have had a cancer scare and insinuated that she might still have the disease until Andy Cohen prodded her.
This is amateur hour. If you're gonna borrow from soap operas for everything else, then do your homework: Faking cancer, or any other disease, should not be that hard. Let's walk through it.
1. Get your story straight.
If you're gonna fake cancer, you can't half-ass it. Zolciak's "cancer" was an ill-timed attempt to get sympathy, but she seemed to have no follow-up to the very simple question of, "Did you have cancer?"
Nene Leakes: I didn't know that you were sick. When you said that you had cancer, that's the first time I ever heard that.

Zolciak: I was used to having beautiful hair, that's what I was known for, that was my signature growing up.

Leakes: Well let me just go on record and say, I never heard that you were sick with cancer. Had I known that, things would have been different. I thought you wore the hairpiece for style. I don't have a problem with it, you do you. I mean if that's what you wanna wear, that's what you do. But I never knew you were sick.

Cohen: Are you cancer-free now?

Zolciak: They found out I didn't have cancer. I had some other problems.

Cohen: So you didn't have cancer?

Zolciak: I did not.
When faking cancer, you should really have your scheme in place. That's how Kristen DiMera faked a pregnancy in the '90s on Days of Our Lives. Don't just blurt out, "I have cancer!" You might think people will console you, but they'll mostly be shocked and, you know, ask follow-up questions.
2. Hire your own psychic.
When Ayers faked his cancer on Orange County, Tamra Judge asked her psychic if he really had cancer. She asked. Her. Psychic. This sounds like an insane turn of events, but considering Camille Grammer once had a psychic come onto Real Housewives of Beverly Hills and spread gossip about her rival's marriage, this is to be expected on a reality show at this point. What Ayers should have done was hire his own psychic. When Kate wanted to set up Sami for having an affair on Days of Our Lives in the 2000s, she hired a fake psychic! If Ayers had his own psychic disputing Judge's psychic, then everyone would be focused on the dueling psychics.
3. Pay off (or blackmail) your doctor.
Where Ayers really failed is not accounting for the fact that the center he claimed treated his cancer would just come out and say, "nah." According to E!, City of Hope Hospital never treated Ayers and didn't appreciate him pretending they had. Granted, not everyone has the wealth of soap-opera villains to buy off an entire hospital, but Ayers should have gone with a less-reputable institute that he could have persuaded to lie to the press on his behalf.
Or he should have at least had someone lie to his lover Vicki Gunvalson to keep her on his side.
The fact that Ayers didn't think someone would dig into the hospital that supposedly treated him and produced his fake documents is perhaps the craziest thing to happen on a Real Housewives show ever. Or maybe it's believing someone doesn't have cancer thanks to a psychic. Who knows!
4. Watch your enemies.
Always neutralize your enemies. Kill them or get them fired from the show. Chances are, Yolanda Foster on Beverly Hills actually does have Lyme disease as she claims, but her plotline for this upcoming season seems to be actual soap-opera actress Lisa Rinna saying she's faking it. Whether this is true or not, if Brandi pulls out a psychic, who do you think they're going to believe?
So, what did we learn here? Those who don't learn from daytime television are doomed to be embarrassed on cable television.