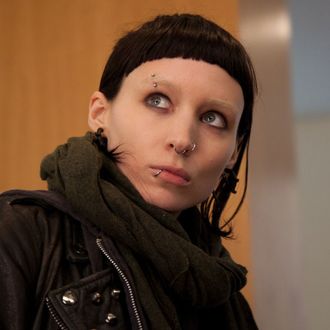 Sayonara, Rooney Mara.
Photo: Columbia Tristar
The Hollywood versions of Stieg Larsson's Lisbeth Salander novels have been in limbo since David Fincher's Girl With the Dragon Tattoo didn't become the record-breaking box-office sensation Sony was hoping for. But now the Wrap reports that the studio is planning to revive the series, with just one catch — well, several catches, actually. Rooney Mara is out as Salander, possibly to be replaced by Hollywood's hottest Actual Swede, Alicia Vikander. Daniel Craig is likely out, as he's too expensive. Fincher is probably out, too. And, finally, Stieg Larsson himself is out, in a sense: The film will be based on The Girl in the Spider's Web by David Lagercrantz, who took over the series after Larsson's death. In other words, this thing is shaping up to be the RC Cola of movies: It tastes almost the same, and so much cheaper!