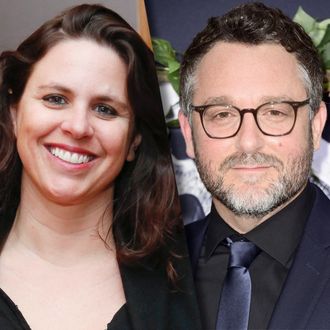 Meeting in person is so much better than tweeting.
Photo: Getty Images
After sparking arguments with his claims about female directors — most notably that "female directors in our industry are not interested in doing a piece of studio business for its own sake" —  this summer, Jurassic World director Colin Trevorrow seems to have learned a thing or two about the challenges faced by female directors in the industry. According to The Hollywood Reporter, Trevorrow sat down with Tanya Wexler, director of Hysteria and one of the most prominent critics of Trevorrow's comments, to discuss their dispute over coffee in New York's Theater District. "He said something where he stuck his foot in his mouth a little bit," Wexler said of the meeting, "But I feel like it came from a place of wanting to be a person who actually engaged in the conversation and even is trying to change the situation, trying to promote women to direct."
Wexler had previously called Trevorrow's tweets, which the director elaborated on in a longer statement, "naïve." But the two reached a better understanding of each other during their talk. According to Wexler, the conversation revolved around ways to foster support for women directors, and to combat the sexism prevalent throughout the industry. "He's very invested in starting to mentor women and encouraging other directors, both male and female, to mentor women," Wexler said. "I respect him for jumping in with me, for caring about the issue and trying to crack it."
Wexler is currently working on Replicas, a sci-fi thriller with Keanu Reeves. Trevorrow's upcoming projects include The Book of Henry, Star Wars IX, and two more Jurassic World sequels.