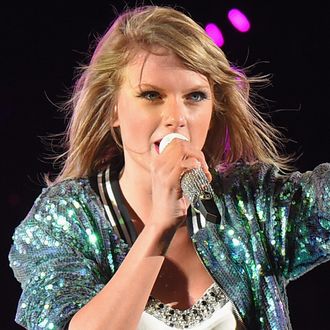 Bonus track: Those dotterels were just New Romantics.
Photo: Michael Loccisano/LP5/Getty Images for TAS
Taylor Swift might be known for crooning "Welcome to New York," but her film crew has gotten into trouble in the not-so-Blank Space on the other side of the globe. According to Radio New Zealand, the singer's film crew Cherokee Films has been hit with allegations that it managed its shoots in poor Style, disregarding restrictions put in place to protect breeding endangered Dotterels while filming footage for what's rumored to be an "Out of the Woods" music video. Instead of simply reading "All You Had to Do Was Stay," those restrictions required that crews only bring two vehicles onto the beach where the shoot occurred, instead of the 12 that were reportedly used. It seems that Cherokee Films has decided to take some of the bad press and Shake It Off (perhaps after a call from a member Swift's team saying, "I Wish You Would"), issuing a release denying any harm to the birds and insisting that the singer wasn't in involved in planning the shoot. "As the local film production company, Cherokee Films," the release read. "We accept responsibility and apologize for this situation. Taylor Swift and her management team were in no way at fault and did not do anything that violated permits or ordinances."
Sandra Coney, a representative from a local conservation group, told the BBC said that she will ask Auckland council to investigate the situation: "She's got another song, 'Wildest Dreams,'" Coney told the BBC. "That says, 'Say you'll remember me.' Maybe I'll do that instead" (and that's How You Get the Girl). Swift's team has not yet commented on the events, though they will doubtless insist that This Love between the star and New Zealand is strong, as the "I Know Places" singer kicked off the Oceania leg of her 1989 tour on Sydney Saturday. This isn't the first time that Swift's music videos have been criticized, her most recent effort drew ire for making colonial Africa seem too Clean.