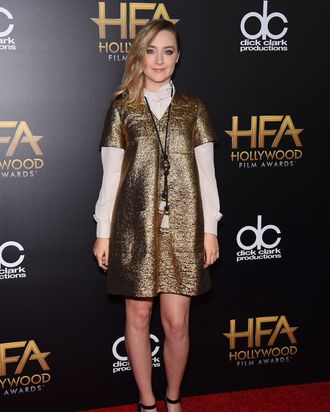 She's got a good head on her shoulders.
Photo: Lisa O'Connor/Corbis
Saoirse Ronan has always given the impression that she's mature beyond her years. In her latest film, Brooklyn, the Irish actress portrays a young woman's journey into adulthood, and her nuanced, controlled performance makes it hard to remember she's only 21 years old. Ronan's been in front of the camera consistently since she was an adolescent, with one Academy Award nomination already under her belt (and buzz building around Brooklyn for her to pick up a second). When Vulture ran into her at a Peggy Siegal Company luncheon to celebrate the film, we asked her how exactly she managed to dodge the adolescent-actor meltdown that so many of her predecessors and peers have experienced.
"I think to a certain extent it depends on the kind of work you do. I think that can really reflect the kind of attention you may get from the media, and things like that," Ronan said. She also credited her childhood in Ireland, ensconced among non-showbiz people and away from the constant scrutiny of Hollywood media. "Most of my best mates that I've grown up with haven't seen most of my films," Ronan shared. "My best friend who I've known since I was like 1 year old, this is one of the first films that she's actually sat through, that I've been in. And she's actually going to see it again. And that's a big thing for Amy. Amy's never gone to see my films."
So, is it safe to say that Ronan has discovered the secret to staying grounded as a young actor? "Yeah," she laughed. "Have terrible friends who don't support anything you do!"