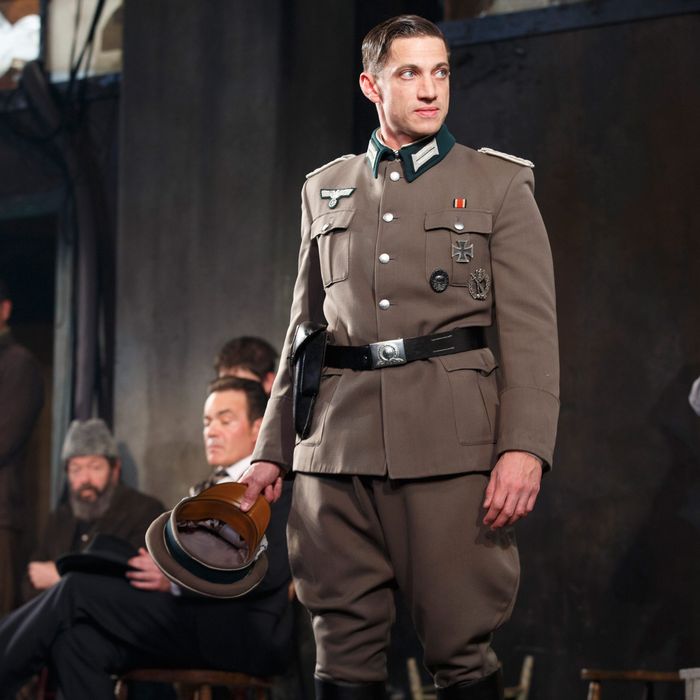 James Carpinello as Major in Incident at Vichy.
Photo: Joan Marcus
The meta-drama of Arthur Miller's plays, much in evidence during this, his centenary year, is the conflict between his moral energy and the theatrical formats in which he (sometimes only barely) manages to contain it. A View From the Bridge, now in revival on Broadway, is perhaps the prime example of a Miller work in which the drama and the exhortation are equally matched. Beneath its characters' struggle to reconcile individual passion and clan loyalty under the rule of law, you faintly sense the playwright's struggle to make his expression worthy of what is expressed. By looking back to the Greeks for advice, he brilliantly succeeds, formatting the 1955 tale around a series of muscular gestures — a fistfight, a contest of strength, two shocking kisses — that are supremely theatrical. In Incident at Vichy, originally produced in 1964, the equilibrium has tipped, and the ideas — about complicity in evil, aesthetics vs. politics, and the limits of solidarity — get loose from the form, a problem the worthy revival now playing at the Signature Theatre unfortunately exacerbates.
It's not that Incident at Vichy lacks a theatrical concept. Indeed it's a familiar and effective one, not unlike that of Agatha Christie's murder mystery And Then There Were None, which she adapted for Broadway in 1944 as Ten Little Indians. Incident at Vichy replaces the sequentially disappearing "Indians" with Jews. In 1942, ten men (one is actually a 15-year-old boy) find themselves in "a place of detention" in Vichy, France, then the seat of the German occupation. Each has been dragged there on suspicion of being a racial undesirable; one by one, a German professor of "racial anthropology," in the company of a Nazi officer and several French policemen, looks at their papers — and in some cases, their genitals — to make the determination. The examination scenes are offstage; what Miller focuses on is the mounting tension in the waiting area as their numbers are slowly depleted, destination unknown. (Some say deportation; some suspect even worse.) That one man early on is given a pass to go free offers a form of sickening hope, as does the fact that detainee No. 9 is an Austrian prince who is obviously a Catholic. Also, one is a gypsy, there possibly not for racial reasons but for stealing the copper pot he cradles protectively. Some of the men somehow take comfort in that.
Watch that pot — what Miller does with it, almost as a grace note, is an example of how, at his best, he fuses plot and theme and character. He does the same again when tweaking the Then There Were None structure with a surprise near the end. But for the most part, Incident at Vichy has too little characterization to support its encyclopedic philosophizing. The men (and, to a lesser extent, their examiners) are certainly particularized: Aside from the boy and the gypsy and the prince, there's a painter, a businessman, a plumber, an actor, a waiter, a psychiatrist, and an old bearded man murmuring Hebrew prayers. Each gets his moment of exposition, or at any rate individuation, with which Miller both works our sympathy and establishes the basis of their political positions. (The plumber is a socialist; the prince an aesthete; the businessman very nearly a collaborator.) But this is just the distribution of trades and traits one finds (as Pauline Kael first observed) in a lifeboat movie. As the focus (and cast) narrows, Miller's urgency to preach busts through the limitations of the premise and emerges in full but nontheatrical glory. The remaining characters (with one exception) speak more and more like pamphlets, and, until that trick ending, the play as a play seems to slink away in chagrin.
But this is Arthur Miller, so the pamphleteering is beautifully done. It is even possible to imagine its being gripping, under the right circumstances. Unfortunately, the current production, directed by Michael Wilson, only reaches that level a few times during its swift 90 minutes. Part of the problem is the staging itself, which makes what seems to me to be basic mistakes, such as distributing the men about the space in pretty but random arrays so you never know who's being called each time one of the policemen shouts "Next." But the performances are not what they need to be, either. What's needed are actors who know how to suggest complete histories, even where Miller doesn't provide much opportunity. And though everyone is proficient at the lifeboat level, tossing their narrow lines out, the most moving character is, oddly, the old man played by Jonathan Hadary: the one who has almost nothing to say. He encapsulates a whole lifetime in the way, when finally called, he finishes a prayer and closes his prayer book before getting up. This man has priorities.
Miller does too, of course. To say that Incident at Vichy is not a perfect play (or that this production is not ideal) is not too much of a criticism. After all, he meant it less as an aesthetic object than as an alarm, two decades after liberation of the camps, that the world had changed irrevocably. "Nothing any longer is forbidden," says the prince, who is speaking as much of vulgarity as atrocity. So many more years later, we have no reason to think that he, or Miller, was wrong.
Incident at Vichy is at the Signature through December 6.