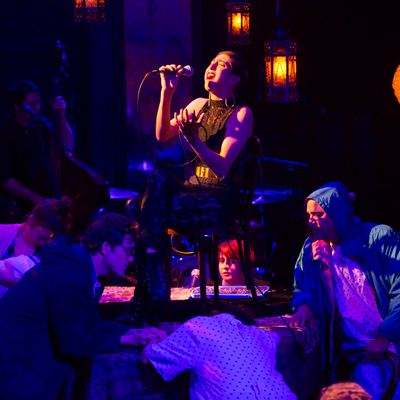 Photo: T Charles Erickson
Just before the final preview of New York Animals last night, Eric Tucker, the show's director, warned the audience that the "glamorous and exacting" play about to begin was still being rewritten, reworked, and even recast. This seemed odd for a piece that had been in development for many years. The playwright Steven Sater's first version of it, with four actors and no songs, was written in the early 2000s, before his immense success as the librettist for Spring Awakening in 2006. He then reconceived the material as a television series for FX; a pilot and six episodes were written but never aired. In 2010, a three-week workshop in Los Angeles developed the play further, but plans for a full production were scrapped. When it next popped up, New York Animals had not only acquired a berth in the current season of the much-praised Bedlam Theatre here, but had grown to include a different artistic team, one more cast member, five musicians, and Burt Bacharach, who at 87 would be providing new material in a New York production for the first time since Promises, Promises in 1968. But unlike Bacharach's artistry — his four or five songs, with lyrics by Sater, are fresh as a fall evening — the play itself seems to have aged poorly. It suffers not so much from insufficient work, as Tucker suggested, but, like toughened pie dough, from too much. 
All along, the general idea has remained constant: On a rainy day in post–September 11 Manhattan, 21 New York characters intersect, or fail to, by design or by chance. In the opening scene, as currently configured, a businessman with a plan to visit his son gets trapped in a taxi driven by a loquacious conspiracy theorist. In another scene, we meet that son and his wife, who has had a miscarriage; in yet others, the son and the taxi driver will be revisited. Eventually, several of the characters wind up together in the emergency room at St. Vincent's hospital for some thematic loose-end-tying, though because the five hard-working actors (including Tucker himself) play everyone, many others necessarily vanish without contributing much to the story. (Where did you go, blind man?) I'm not sure that the more prominent characters contribute much either; their potential is attenuated by the brevity of their appearances, and also by a surprising lack of individuation. (All five "young woman" roles, though played affectingly by Susannah Millonzi, blur together.) Perhaps this would have worked better on TV, with one role per actor. As it is, underlining the idea of cross-sectional commonality with far-fetched, coincidental links seems at least as old as the fax machines and Princess phones that show up frequently in the story.
If New York Animals suffers from a hoary overall concept, the individual tales are dated, too. A wise homeless man; a 37-year-old single gal bitching with her gay friend about straight guys; a busybody old waitress at a diner; her sad and difficult customers — have we not seen these animals, in these habitats, many times before? Some scenes, no doubt attempting to engage the class and racial tensions inherent in city life, even flirt with offensiveness. The mother of a newborn tries to fire her cleaning lady for failing to hand-wash her delicates; even if you accept that as a meaningfully loaded situation, what do you make of the cleaning lady's ludicrous Spanglish (and the fact that she's played by a man in drag)? And an odd, outdated air of condescension hangs over the entire proceedings, not just these itchy parts. Sater seems to be offering a view of New Yorkers as — without exception — tragic or neurotic or nasty or worse. If Debbie Downer were a play, this would be it. 
It was therefore a very smart idea to add music, and Bacharach's idiosyncratic combination of breeziness and intensity makes for an ideal soundtrack. I say "soundtrack" advisedly: The songs are a wonderful relief but, at the same time, are something separate from and to the side of the play. None of the characters sings; instead the Brooklyn-based performer and DJ Jo Lampert provides lead vocals and interstitial riffs in the style of a local genie or house chanteuse. (For this engagement, the set designer John McDermott has done up the New Ohio Theatre, in the West Village, as a nightclub, with small faux-zinc tables and casbah pendant lamps.) Lampert has a great smoky voice for Bacharach, and the arrangements by Debra Barsha (who also leads the band from the piano) swing just right, but the relationship between the few, neat songs and the strung-out play is strained and alienating. Bacharach's intensely chromatic coloration and off-kilter motific energy frequently seem less like an expression of the story's themes than an unheeded lesson to them. With titles like "Don't Fuck with Me" and "When Does It End?" (I'm guessing; no song list is provided) they acknowledge sadness without getting mired in it. Bacharach's plushness also clashes with Bedlam's customary minimalism, which requires the kind of editing and precision that the production (as Tucker warned) has not had time to achieve. Perhaps if the songs were better integrated — a difficult job, but Kyle Riabko's Bacharach revue What's It All About? managed the trick beautifully two years ago — they might have lifted the story. Instead, they show it up, and no amount of extra rehearsal is going to do anything about that.  
New York Animals is at the New Ohio Theatre through December 20.