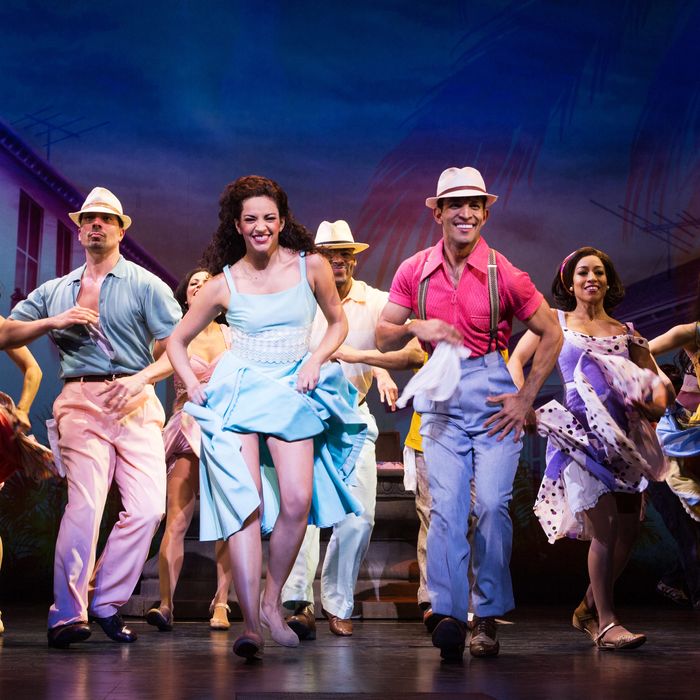 On Your Feet!, at the Marquis Theatre.
Photo: Matthew Murphy
I'm no fan of jukebox musicals. If they're the type that tell an invented tale, like Mamma Mia! or Rock of Ages, the book is generally rendered idiotic by the effort to accommodate the songs. If they're instead pop biographies, like Jersey Boys and Beautiful, the problem is even worse because the songs, too, are denatured, by the effort to accommodate a preexisting storyline. Furthermore, the structure of musicals in the second category can only lead to a bathetic climax: In the final scenes, the protagonists (Frankie Valli, Carole King) become exactly who we already knew them to be. That's more than ever the case with the new Gloria Estefan jukebox musical On Your Feet! because if you don't arrive at the Marquis Theatre knowing the billboard headlines of her story (Cuban immigrant becomes American pop star, gets hit by a truck, eventually returns in triumph), why are you there? The only real issues for me in approaching a show like this are the fun of the tunes and the ingenuity of the distraction. To say that On Your Feet! is better than most of its ilk is therefore faint praise; it means you might have almost as good a time as you would if it were merely a concert.
I don't mean by this to belittle the life experiences of Estefan and her husband, Emilio. Theirs is a classic crossover success story in which talent and hard work overcome prejudice — a fact that the show's book, by Alexander Dinelaris, underlines so vehemently it begins to pall. The confusing narrative structure doesn't help. We first meet the couple during a 1990 performance in Washington, D.C., as Gloria, at the height of her stardom, comes offstage after singing her hit "Rhythm Is Gonna Get You" and tells their young son to do his homework. The story then flashes back to 1966 to fill in the dual biographies. Gloria gets much more stage time: We see her tending to her father (a Vietnam vet with MS), nannying her younger sister, and generally being a college-grad good girl, all while trying not to chafe under the thumb of her loving-but-controlling mother. (A further flashback, to Havana in the 1950s, tries to explain the mother's disapproval of Gloria's musical interests.) Emilio's flashback is vaguer, but in any case his function is not historical; as the one with the drive (and the band), he's the story's machine. (No accident that his band is eventually called Miami Sound Machine.) Indeed, On Your Feet! doesn't really begin to move forward until, fifteen minutes in, the protagonists meet and share their music. From then on, with whatever side trips into family crisis and emotional chain-yanking, it is driven furiously along by the beat of the songs.
And that's one reason this jukebox is better than so many others: The music has the consistent excitement necessary to make a show work (and to sail past the frequent longueurs). Sure, some of the ballads are glutinous, and the lyrics rarely rise above aerobic exhortations like "Come on, shake your body, baby," but, as the opening number predicts, the rhythm's gonna get you. In songs like that one, and other Top 10 hits including "Conga," "1-2-3," "Turn the Beat Around," and the quasi-title number "Get on Your Feet," the Estefans, as authors or co-authors or as performer and producer of songs written by others, really did what the book keeps saying. They combined Latin brass, Cuban drumming, American funk guitar, and Detroit diva vocals into a new hybrid sound that gave a lot of different audiences the same feeling of discovery. The happy news about On Your Feet! is that in its music (the 13-piece band, including five members of Miami Sound Machine, is fantastic) and staging (by director Jerry Mitchell and choreographer Sergio Trujillo) it re-creates the excitement of the songs when they were new, and translates that excitement into visual terms. Trujillo's nearly nonstop dances, heavy on salsa footwork and Latin close-body partnering styles, feel fresh on the Broadway stage, and Mitchell's characteristic no-pause pacing whips them (and everything else) into a frenzy.
Maybe too much so; at a certain point the mania begins to cloy, giving the numbers an overbrilliant, synthetic quality. (The show is nothing if not an advertisement for cosmetic dentistry.) I also came to feel that some of the book's problems were the result of Mitchell's telegraphic aesthetic, in which the story is cannibalized by the staging of the songs, of which there are a whopping 25. But some of what's wrong with On Your Feet! is also generic, not only in the awkward shoehorning of some numbers but in being, like Jersey Boys and Beautiful, an approved biography with a favorable spin and a foreordained conclusion. (During previews, Gloria Estefan herself has been holding court in a box at the theater, waving and dancing.) By the time the story finally gets back to 1990 in the middle of Act Two, and you are forced to sit through Estefan's hospitalization, recovery, physical therapy, and comeback (in the form of a faithfully re-created number from the 1991 American Music Awards), you may wonder whose idea it was to turn the story of a smart, tough Cuban-American singer into an opportunity to fawn and beg for sympathy. Letters from fans moved by her spirit and praying for her survival are actually read aloud. It's great that she fought her way back after the accident, but it was spinal surgery, not a crucifixion.
Given that tonal hijacking, along with the chaotic timeline, it's not surprising that most of the leading performers are unable to do much more than establish their characters and try to hold on. Ana Villafañe, in her Broadway debut, is a terrific Gloria look-alike and sound-alike, never less than enjoyable to watch, if not much different as a shy 17-year-old than a pop queen at 34. Josh Segarra is given even less to work with, but uses what he's got to create an Emilio who is witty, devoted, aggressive, and, with his husky Cuban accent, unreasonably sexy. (That huskiness, however, does Segarra no favors when he sings.) It's really only those Broadway vets Andréa Burns and Alma Cuervo, as Gloria's mother and grandmother, who know how to give the illusion of character depth while maintaining the shiny surface such a musical requires; they and the 8-year-old Eduardo Hernandez, as a bar mitzvah boy doing crazy salsa steps during "Conga," walk off with the show.
That there is, in fact, a bar mitzvah boy doing crazy salsa steps really says it all. The crossover phenomenon has itself crossed over. The Broadway musical, from The Black Crook through Hamilton, has always been a compound form, absorbing all cultures it creeps past, like an advancing glacier. Here, in a story about making it big in America by becoming more like everyone else, the form at last matches the content. Is that a new high or a new low? Maybe a bit of both. On Your Feet! — even the title sounds pre-owned — is a little bit special but mostly the overmiked same.
On Your Feet! is at the Marquis Theatre.