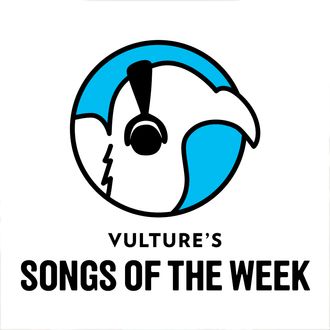 Every week, members of the Vulture staff highlight the best new music of 2015. If the song is worthy of your ears and attention, you will find it here. Read our picks below, share yours in the comments, and subscribe to the Vulture 2015 Playlist for a comprehensive guide to the year's best music.
Erykah Badu, "Phone Down"
Miz Fat Belly Bella may want you to make her cell-u-lar device bling at night, but rest assured you won't need it once she's through with you. This analog girl in a digital world wants nothing to do with your Instagram thirst traps because she is the original thirst trap. And she's busted out her best impression of The-Dream to make you come to your senses. Did you think late-night-booty-call anthems were Drake's lane? Kids, Erykah wrote the phone book. — Dee Lockett (@Dee_Lockett)
Sara Bareilles, "Everything Changes"
In case you missed it: Sara Bareilles is writing the music for the upcoming musical Waitress, which was adapted from the 2007 film. She just released an album of selections from the musical, which she (and sometimes Jason Mraz) sings. Bareilles won't be starring in the show. Instead the titular role, Jenna, is in the more than capable hands of Jessie Mueller, who won the Tony for Beautiful: The Carole King Musical. "Everything Changes" picks up after Jenna gives birth. An unexpected pregnancy, but she's grateful for it. She sings, "I swear I'll remember to say/We were both born today." It's classic Sara B. A steady stream of piano, a bittersweet melody, and her beautiful falsetto every so often. Come to think of it, it sounds a lot like "Gravity." — Eric King (@erickingdavid)
Eric Church, "Mistress Named Music"
They always tell you you'll never forget your first love. I believe that saying's true for both people and your passion. My first love will always be music; I've loved it longer than I have anything or anyone else in my life. That's the theme on "Mistress Named Music," off Eric Church's impeccable new surprise-released album. He's singing, with his usual aching Springsteen soul, about how hard it is to shake his love for music. As he tells it, he's been after her since he heard an older black woman tickling the ivories at church when he was 5. Some things last a long time, as Lana sings elsewhere on this week's list. It's hard not to fall for Eric Church: He believes so strongly in every word he says — even when he's calling Jeff Tweedy a "bad mother," which LOL — and you can't help but believe him, too. Last year's "Like a Wrecking Ball" made me weak in the knees, and dammit, he's done it again. — DL
Grimes, "Kill V. Maim" 
Just when I was convinced Neon Indian's "Annie" would easily take 2015's dance-around-in-your-underwear title, Grimes dropped this anthem on us. There are many things I love about her new album, but my favorite is the juxtaposition of Claire Boucher doing her cheerleader-huffing-helium voice against her aggressive words and electronics. The pinnacle of this dynamic is "Kill V. Maim," where she literally cheers out a call to "bad" behavior and refers to herself as a man time and time again. Full-on subversion hasn't sounded this intoxicating in a while, so while the message is one to get behind, the reason this song's remained on repeat for me has more to do with Boucher's ability to flit between styles and tempos at hyperspeed. I hear flashes of "Ray of Light" and prime-era Garbage, but the overarching feeling is wildly forward-thinking, towards pop's future. — Jillian Mapes (@jumonsmapes)
Lana Del Rey, "Some Things Last a Long Time" (Daniel Johnston cover)
I never knew how much I wanted Lana Del Rey to cut a country record until today. For the upcoming short film on Daniel Johnston's younger years (which Lana partially funded), she's taken on the song most people know and love the indie outsider for: "Some Things Last a Long Time." I'd somehow forgotten what a beautiful piece of music that song is until Lykke Li sampled it on last year's "No Rest for the Wicked." It takes your breath away, doesn't it? All that pain. Lana channels Johnston's vulnerability perfectly, her usual cinematic aesthetic scaled back for something more personal. It's just Lana and a guitar, adding yet another gem to her sensational arsenal of soundtrack songs. — DL
Le1f, "Umami/Water"
It feels like we've spent a thousand years waiting for the debut album from NYC rap iconoclast Le1f, but finally the moment has arrived: Riot Boi is officially out this Friday. And it boasts an interesting array of producers, from SOPHIE to Evian Christ, and TNGHT's Lunice; the latter two are responsible for his latest double offering, "Umami/Water." It's part rubbery trap banger dedicated to both his friend Juliana Huxtable and trans activism, and other parts warped fever dream that riffs on Dick Dale's "Misirlou." No one's making this kind of music; you either love or hate it, but you damn sure can't ignore it. — DL
Little Mix, "The End" 
It has taken America so long to get on the Little Mix train. They released their first album in 2012 and they are finally getting some buzz in the States. (I'm convinced that — and I hate to pit girl groups against each other — Little Mix sailed across the Atlantic to destroy Fifth Harmony.) Their third studio album, Get Weird, is the first album I've listened to in a while where more than three quarters of the songs are winners. "The End" is one of them. It's entirely a cappella, which the girls have shown a penchant for on their previous albums and live radio spots, and serves as a bluesy declaration of the absolute end of a relationship. They croon in crunchy harmony, "I swear that this time is the end." But, come on, is it ever really? — EK
Matmos, "Ultimate Care II Excerpt Eight"
Baltimore electronic duo Matmos has returned with Ultimate Care II, an album that presents musique concrete as told by the washing machine in your basement, specifically the Whirlpool Ultimate Care II model used to generate the sounds heard on this album. — Lauretta Charlton (@laurettaland) 
Do you like good music? Of course you do! Subscribe to Vulture's 2015 Playlist to hear the new music we're listening to every week.