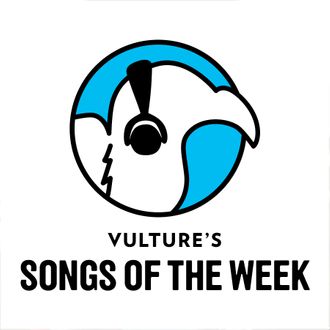 Every week, members of the Vulture staff highlight the best new music of 2015. If the song is worthy of your ears and attention, you will find it here. Read our picks below, share yours in the comments, and subscribe to the Vulture 2015 Playlist for a comprehensive guide to the year's best music.
Allie X, "Never Enough"
I can't say that Allie X will ever be a household name — her elusiveness often works against her — but she's already won a co-sign from Katy Perry and a songwriting cred on Troye Sivan's debut album (on the song "Youth"), so a lot's working in her favor. She released one of the year's catchiest EPs over the summer, and she's just put out another in the U.K. "Never Enough" is for those of you who swooned over Charli XCX's debut album; it's shimmering, '80s-leaning, and has a chorus some labels would shell out hundreds of thousands to buy for their pop stars. Allie's got a dozen of these in her back pocket. — Dee Lockett (@Dee_Lockett)
Justin Bieber, "Company"
Purpose is a banging album. But while most of it dips into Skrillex and Diplo's electronic wheelhouse, "Company" manages to stand out because it harks back to what Bieber does best — solid R&B. This could easily be a track off Bieber's equally great album Believe, but its relaxed, laid-back vibe shows a more mature artist than what you hear in the frantic nature of Believe. — Ira Madison III (@ira)
BOOTS, "Only"
When Beyoncé stopped the world with that digital drop, one of the sidebars on her 2013 self-titled was this kid BOOTS, a former indie-pop front man turned producer-songwriter who was all over the LP. BOOTS (real name: Jordy Asher) had been signed by Jay Z's Roc Nation for publishing in the midst of working with Bey, eventually signing to Columbia (also Bey's label); his full-length debut there, Aquaria, dropped Friday. While I find some of the album to be overworked, the elegant, dark intimacy of late cut "Only" is nothing short of intoxicating, in a Fiona Apple kind of way. Through little more than shifting pronouns, the piano ballad comes to a simple but effective conclusion: Some of us walk alone for a while, until suddenly someone else becomes our world (how simultaneously terrifying and comforting the whole thing is). Half of this song has got to be Asher just moaning one long, lyrical "oh," but it's hard to take offense as it glides above a sly crescendo of jazz percussion and key-slamming. — Jillian Mapes (@jumonsmapes)
Classixx ft. T-Pain, "Whatever I Want"
L.A. producers Tyler Blake and Michael David (aka Classixx) say they've been fans of T-Pain since they first heard "Can't Believe It" (still a classic), and now they finally got the Tallahassee innovator on one of their own beats. This really deserved a summer release: It's got the same breezy essence of all those so-called "tropical house" songs that took over radio this year, except it's even groovier. It's getting colder by the day here in NYC; spin this one and let it trick you into thinking you're on a beach somewhere sipping a margarita. Suddenly, you'll remember that good life T-Pain used to sing about. — D.L.
Missy Elliott ft. Pharrell, "WTF (Where They From)"
It should be illegal for Missy Misdemeanor to simultaneously unveil a new song and video, because inevitably her visuals overshadow her music. After all these years, she's still one of the only artists whose videos I get excited about in the same way I did when I was a kid racing home from school to watch a premiere on TRL. Amazing as this video is, though, the song it's paired with goes equally hard. I mean, c'mon: "Ugh, I'm so far ahead of ya'll, man I'm on top of the stars / I don't care none of you are, blah-blah-blah-blah / You best to go rewrite your bars," she raps, attacking another stomping Pharrell creation. No one swoops in and disrupts the game at her own leisure like Missy. — D.L.
One Direction, "End of the Day"
Most of One Direction's latest album is them trying to be the Beatles, so it's natural they'd turn out a "Day in the Life" kinda song that feels like it's actually four songs in one. But you know what? It really works. It sounds like a real rock song, something that the Arctic Monkeys would've killed but not polished with as much of a glorious pop sheen as the boys in One Direction are capable of. This is the one song on the album that feels like it pulls out every one of the band's strengths and doesn't lack for Zayn. — Ira Madison III (@ira)
Pusha T, "Untouchable"
King Push rapping over a Biggie sample: Are you kidding me? It's not every day you get to hear one of the most underrated lyrical beasts next to the greatest full stop (don't debate me); talk about the stuff of a hip-hop head's wet dream. The song, produced by another legend, Timbaland, comes loaded with top-notch braggadocio, masterful wordplay, and enough cocaine metaphors to make Tony Montana's nose fall off.  — D.L.
Troye Sivan, "Youth"
A notorious YouTube youth himself, Troye Sivan is doing the whole "all grown up thing" now. After one EP and a "mini" album, the 20-year-old Australian is posting less videos of the "Kylie Jenner Lip Challenge" breed, and more heavily produced music trailers ranging from sexy to heartbreaking. The second single from his first full-length album Blue Neighborhood is "Youth." The track's explosive, electronic post-chorus quivers with the thrill that only comes from your first, reckless love. It drowns out all reason, and before you realize, you get lost in it. — Eric King (@erickingdavid)
Do you like good music? Of course you do! Subscribe to Vulture's 2015 Playlist to hear the new music we're listening to every week.