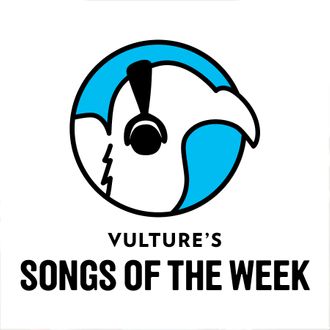 Every week, members of the Vulture staff highlight the best new music of 2015. If the song is worthy of your ears and attention, you will find it here. Read our picks below, share yours in the comments, and subscribe to the Vulture 2015 Playlist for a comprehensive guide to the year's best music.
Adele, "When We Were Young"
I already said my piece about Adele, but I couldn't let this week pass without also publicly declaring my love for "When We Were Young," 25's big, twinkling, nostalgic moment of Carole King schmaltz. iTunes informs me that I have listened to this song 71 times since Friday (and felt chills every single time), not counting all of the instances I've watched the unbelievable live version you see below. I hate how the press tends to give credit to the male producers and songwriters who work with female pop artists instead of the artist herself (a.k.a. the Phil Spector Effect), but Tobias Jesso Jr., the Randy Newman/Harry Nilsson–tinged indie dude who co-wrote "When We Were Young," is all over this song in the best way possible. Sure, it's great in a distinctively '70s singer-songwriter way that quite suits Adele, but it wouldn't have the same gut-punch without her gnarly vocals at the tail end, when she sneers, "I'm so mad I'm getting old, it makes me reckless." I live for that moment; we all know what it feels like to wish so hard that we could turn back the clock, but Adele actually attempts to do just that through the brute force of her voice. —Jillian Mapes (@jumonsmapes) 
The Alchemist ft. Migos and Mac Miller, "Jabroni"
One of hip-hop's hardest-working producers, the Alchemist, is back at it with his vinyl 45 series, Craft Singles. First up, he's paired Migos and Mac Miller — who could not be further apart on the rap spectrum — on the woozy, the Rock-inspired "Jabroni." As random as this collaboration is, Quavo, Offset, Takeoff, and Mac all sound like old friends who got lit in the studio, and this is the result. That maybe never happened (or did it?), but it's a credit to the Alchemist for making it feel like such a natural partnership. —Dee Lockett (@dee_lockett)
Carly Rae Jepsen, "Last Christmas"
I'm particular about "Last Christmas." It's my favorite Christmas song, and the Wham! version is a mix of '80s cheese and holiday perfection. Which is why Carly Rae Jepsen's rendition stands out. It doesn't attempt to replicate the Wham! version and update with modern pop conventions like other lesser covers. Jepsen does her own spin on it, which, like most of her oeuvre, sounds straight out of the '80s but with that Jepsen authenticity that made Emotion an instant classic. When the sax starts out, Christmas has never felt slinkier, jazzier, and sexier. —Ira Madison III (@ira)
Macklemore & Ryan Lewis ft. Leon Bridges, "Kevin"
A few years ago, Macklemore gave an aspiring rapper named Kevin a shot at some studio time with his producer Ryan Lewis. Kevin wasn't great, but he was also an addict like Macklemore and in desperate need of some hope. After recording a few songs together, Macklemore dropped Kevin off at his home; Kevin overdosed the next day. Kevin's story lives on in Macklemore's damning new song, named after Kevin, that features soul's next big name, Leon Bridges. In Macklemore's typical narrative style, he's using Kevin's death to make a larger point about the pharmaceutical industry. "All this is on you, we're overprescribed," Leon beautifully sings. It's a selfish, money-grubbing business — one that harms just often as it heals — and this is maybe the first time Macklemore doesn't sound like he's exploiting a cause. —DL
Mothers, "Too Small for Eyes"
Is it too much to admit that I wanted to cry when I heard this song for the first time? The way Kristine Leschper sings about "hating my body," the way her voice — dancing between a plucked mandolin and piano before a subtle swell of strings — cracks when she mourns the loss of friends, brought me to my knees. It's both gorgeous and heartbreaking. Mothers, literally one of the worst bands to search for on the internet, is prepping a stellar debut in 2016, and I can't wait. —Lauretta Charlton (@laurettaland)
Do you like good music? Of course you do! Subscribe to Vulture's 2015 Playlist to hear the new music we're listening to every week.