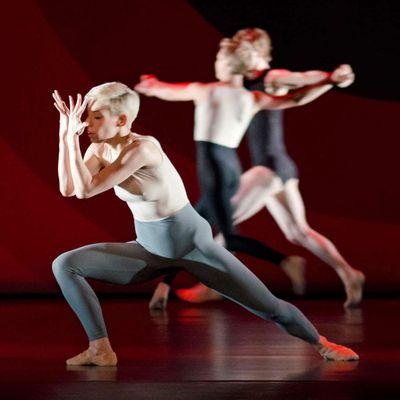 Dance has been part of the composer's toolkit since at least the days of the medieval estampie, but in the modern age few have embraced it with the fervor of Thomas Adès, who writes concert music that writhes with rhythm. Adès spent the weekend presiding from the pit and the piano as four choreographers each re-created one of his scores. The production originated at Sadler's Wells in London, and arrived at City Center courtesy of Lincoln Center's White Light Festival, where it built to a finale of collective ecstasy usually reserved for cultish rituals and sporting events.
It must be alarming for a composer to see musical ideas metamorphose into physical ones. Notes become footfalls, beats are counted off according to an arcane system musicians don't understand, and painstakingly crafted details slip by unremarked. But there's a physicality in Adès's music that lends itself to the stage, a sense of concurrent pulses, of bodies in spasm, of slowing treads and perpetual orbits that must be a choreographer's dream.
There's the lazy, smoky hip-swivel in "Life Story," a kind of avant-garde cabaret number about two strangers who find themselves in bed together after sex, awkwardly groping toward conversation. Soprano Anna Dennis delivered the song with irresistible cynicism, caressing each repeated "oh, oh" until the phrase collapsed in an exhausted exhalation. The choreographer Karole Armitage turned the piece into a duet of wordless hypocrisy: Ruka Hatua-Saar and Emily Wagner tangled and listened and tangled and strutted, a tour-de-force of pretending to care. Wayne McGregor translated the dreamy dervish-whirls of Adès's violin concerto Concentric Paths into a breathless, constantly cantering ensemble, and Alexander Whitley distilled the relentless skittering of his Piano Quintet into a fluid dance trio.
But the big event was Polaris, an orchestral piece so overflowing with activity that choreographer Crystal Pite decided she needed a cast of thousands, or at least 66, to translate all that sound into movement. Adès conducted the Orchestra of St. Luke's with such ferocity that bubbling tides of music breached the pit. Brass stationed in the upper balcony rained righteous blasts down on the audience, while double basses seemed to rearrange the very structure of the hall. The music revolves around a tonal North Star, but that fixed point allows the margins to splinter. Braving the score's bedazzling colors and powerful currents, Pite filled the stage with black-clad dancers swarming in synchronized masses — a murmuration of ninjas. Sixty-six torsos and 264 limbs formed blooming algae, breeze-tossed grass, and fractal patterns. In retrospect, it seemed as though Adès's great piece had been pinioned until Pite came along and set it free.