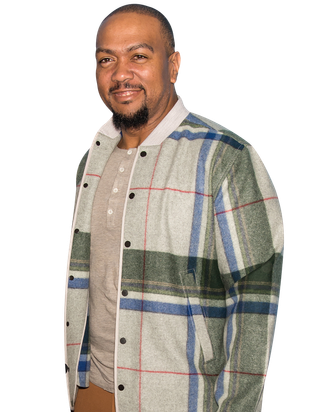 Chart-topping producer Timothy "Timbaland" Mosley has always been a bit of a showman. When music moves him, his eyes bug out, his face turns cartoon-character elastic, and his body shifts in all directions. One credible theory — okay, my own — maintains that he's spent so much time connected to his ASR-10 sampling keyboard that the two have melded mainframes. With his cyborg superpowers, the Virginia Beach native has provided the bounce to Jay Z's "Big Pimpin'," the groove to Justin Timberlake's "Cry Me a River," and his fidgety wall of sound to artists of all stripes (Missy Elliott, Britney Spears, Kanye West, and many more).
Now, as the executive producer of music for Empire, he's busy building another type of, well, empire. In its second season, Timbo continues to lay stellar tracks for a rambunctious cast, led by Terrence Howard (Lucious Lyon), who plays the diabolical head of a fictitious rap dynasty. Aside from Timbo's new role as Hollywood's hitmaker, he has new memoir, The Emperor of Sound, wherein he offers a candid look at the life of the man before he became a hit machine. In a recent interview with Vulture, Mr. Mosley reveals his plans for a mixtape takeover, a new TV show about a "big bitch," why Drake is like his son, what Missy should do with her comeback, and, of course, Empire. After all these years, Timbaland finally explains why he refuses to miss a beat.
Terrence Howard gets a lot of heat on social media for his raps delivered as Lucious Lyon. Do you ever cringe when you hear him deliver raps over your beats?
[Sings "Boom, Boom, Boom"] "Boom, boom, boom, boom / Bang, bang, bang, bang" — you're talking about stuff like that. It's about the emotion. Lucious rapping is really like him talking and doing his role, not about him rapping … He shows you, I'm not a rapper, but guess what, you feel from the dialogue that it relates to you. It's like comedy, in a way. It's not serious.
It was a surprise to see Petey Pablo, the North Carolina rapper you broke with the 2001 hit "Raise Up," appear on Empire. How did you guys know he would be a fit?
His energy is amazing. That's really been his career, creating something to watch — not something to hear. Petey is great at laughter, imitation, emotion, and connecting to that southern home. I'll give you a prime example: I want to put Petey with this girl for a show I wanna do. I'mma tell you this, if you use this, I got confidentiality.
Wait. So what you're about to tell me is off the record?
No, it ain't off the record, but it's what's about to come out. So, I got this girl that I met at TSA one time when I took a [commercial] flight. I said, "Look at her talking, she's a star." This is how my visionary mind works. She was like [imitates drawl], "You know I'm out here triiippin', it is the life of a big bitch." And I was like, 'That's it. We gotta do a show." Then she said, "It's the diary of a big bitch." [Laughs.] With her and Petey, do you understand what we gonna do. I can't even describe it, but I know it's going to be off the chain. It's going to be something the urban community is gonna be like, "This is crazy. That. Is. A. Show."
Which of Empire's musical talents has the best chance to —
Hakeem [played by Bryshere Y. Gray, a.k.a. Yazz the Greatest]. You ain't even got to finish that. Jussie [Smollett, who plays Jamal] is a star, too, but they got their arms around him. Once I get with Jussie, I'm going to show him what to do. I think too many people are focused on him because of his sexuality. Everybody got their arms around him. I just need to put my arm around him that one time and take him away from that world. He needs to be with the Weeknd.
How do you make a rapper like Yazz the Greatest (Hakeem) come across as authentic outside of TV?
The writing gotta be more catered to who he is personally, just a little bit. Right now, he's doing a great job, he's showing humility so it will make a person buy into his music. But the thing is, it can't make him look soft either. It's a real tricky situation.
What will it take?
People are gonna like him. It's just a getting-to-know process. The problem with Hakeem is, Fox gotta understand, he is a musical artist. That's his first passion, so he gotta put out a Yazz the Greatest mixtape. He has to. We have to. He has to do everything the kids are doing right now. What he is doing is cool, but we need some more music. We need some other gutter stuff beneath that.
Sounds like you've got a plan already.
I dunno, I just thought about it. Just looking at you, that was my concept. That is how ideas come.
In Emperor of Sound, you talk about not wanting to join Suge Knight and trying to steer clear of him. Did your experience help you avoid Knight's orbit in a way that Dr. Dre didn't?
I think we all went through the same thing. None of us avoided anything, it was just trials and tribulation. Suge was young. Everybody was young. Suge was probably one of the biggest visionaries there was. But sometimes visionary and power can be too much. Sometimes you can't handle both. Suge is a great man. But having all that power and losing it can eventually mess you up.
Also in the book, you tell the story of how, very early on, Missy Elliott said she was going to find a way to sing for Jodeci. Was her confidence infectious?
Missy had it. Missy was the leader. She was it. That's boss lady. So, now I'm trying to get her to understand. See, we're from Virginia. We might fall to the end of the curb, but we ain't gonna fall too far, we're gonna keep our balance. Missy right now has an opportunity. The kids are bouncing different, so what once was is not today. What we used to do now probably doesn't have the same impact as, [rapping Drake and Future's "Jumpman"] "Jumpman, Jumpman, Jumpman." By me being in the trenches, I can say, "Missy, let me show you something. Everything else is cool, but instead of mixing with this, mix with this. You gonna mess these kids up. They see you as their favorite aunt, so they're looking to you for guidance."
Outside of Missy and Empire folks, who is on deck to work with you?
I'm working with everybody. There is going to be a big announcement coming soon. Can't talk about it.
How about just a hint?
Okay, I'm gonna rule the mixtape era. I'm gonna rule it. I'mma put out a mixtape. Why not? Let's do it. It's gonna be ill, too.
Free Timbaland music?
Look, y'all done paid for my music all these years, why not give something back? It's about being apart of the culture and showing people how to make it. If we gonna do trap music, this is how we gonna do it. I'm gonna control this thing. Y'all come to me, I got it. The dirtiness? Mmm, mmm. We gotta clean this up.
Back to your book. You talk about the time period when you and Missy became a part of DeVante Swing's Da Bassment Cru production team. It sounded pretty awful the way he pretty much hazed you. What do you think about his tactics now?
He put us through what every father would do — pressure. Now I look back at it, some of the stuff I might need to apply to all my kids today. I tell Rich Homie Quan and I tell Young Thug. But now it's a different approach, 'cause they're making money. How do I talk to them when they making 100 grand or 200 grand? So I gotta talk to them from a different perspective. I'm like, "This can dry up. Trust me, I done lost it all twice." I wanna be the guy that you come to and let me be the guy to go talk to my brother Jay Z or Jimmy Iovine. I ain't trying to be competing with no Apple, but the flow of music runs through either me or Drake. I'd rather team up with people like Drake.
What do you mean, runs through you or Drake?
He is really tapped into everything in the culture. Him, J. Cole, and Kendrick [Lamar]. 'Cause they are that [points to computer], the internet. They know that shit up and down. Drake got playlists. An old-school cat would be like, "A playlist? We ain't doing that!" We got to. We gotta be the ones to invent the next wheel. But sometimes we get complacent. Drake is on everything. All that stuff I thought about five, six years ago. But what happened is life. Now I'm getting back to it, like, "Okay, you jumped the boat, but I started this. You are my baby. So now I gotta come and play with you, brother. Let me show you how I really played back in the '90s."
Are you on Drake's Views From the 6?
I could be.
That sounds like a yes to me?
I don't know, who knows. [Laughs.] Ask him, he might tell you.
Might be the biggest record to come along in a long time.
I look at him like he could be related to me because he's part of music. That boy's doing a good job. You can't compete with Drake because he got it. You gotta shock people in another way. I think Timbaland and Young Thug is more shocking than Drake. Because you know what Drake is. But you never saw what Timbaland and Thug is. You never saw what Timbaland and Rich Homie Quan is. You never saw what Timbaland and Migos can do. You'll be like, "You see the difference between what Timbaland did [compared to the old]?" That will be the talk. And that will be a "View," along with his Views. You gotta find a way to stand beside that dude.
You're still working on music to change the world?
Only God can change the world. I can only play my part in it.