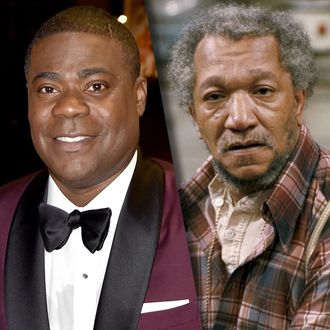 Tracy Morgan getting Foxxy.
Photo: Kevin Winter/Getty Images; NBC
Lee Daniels's Richard Pryor biopic keeps trucking along, and now, it seems that they might add Tracy Morgan to the cast as fellow comedian Redd Foxx. The Wrap reports Morgan is in talks to play the Sanford and Son star who would play a mentor to a younger Pryor. Morgan would join an A-list cast: Taraji P. Henson and Eddie Murphy are set to play Pryor's parents, Oprah Winfrey his grandmother, and Kate Hudson as his widow. Pryor would be played by Mike Epps, who got the blessing from Pryor himself before died. Morgan is already filling up his schedule after a horrific accident put him in a coma, hosting SNL and gearing up for a comedy tour starting early next year. Keep on keepin' on!