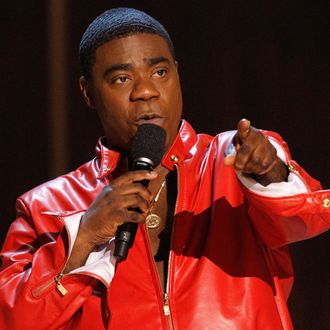 Photo: Mario Anzuoni/Corbis
In June 2014 Tracy Morgan was involved with a devastating highway accident that left him with a broken leg and femur, broken nose, and several broken ribs; he was in a coma for two weeks. Now in an interview with Complex, Morgan reveals that while comatose, he spoke with God:
Does it feel like everything's back to normal after what you went through?
Well, you're never going to be normal after you go through something like that. You don't die for a few weeks and then come back to normal, trust me. Something's going to be missing, something's going to be gained — you just got to live your life after that. But after surviving something like that, I'm probably never going to feel normal. I went to the other side. This is not something I'm making up. Do you know what God said to me? He said, "Your room ain't ready. I still got something for you to do." And here I am, doing an interview with you.
Morgan seems optimistic and modest, which is great to see after everything he's been through:
What are your plans now for the future?
I try not to do that. Just living my life, man. When the sun's up, I try to get it on and poppin'. When the sun is up, I try to make it happen. That's what I'm doing, whatever it is! I'm going to do it until I'm satisfied.