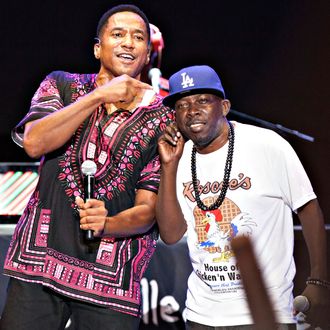 Welcome back, again.
Photo: Gabriel Olsen/Getty Images
A Tribe Called Quest may have said that opening for Kanye West in 2013 on his Yeezus tour would be their "final" performances, but they were just kidding. This Friday on The Tonight Show Starring Jimmy Fallon, all members of ATCQ —  Q-Tip, Phife Dawg, Ali Shaheed Muhammad, and even Jarobi White — will reunite once more. No, it's not because Questlove begged them to (though he probably did): On Friday, they're re-releasing their debut album, People's Instinctive Travels and the Paths of Rhythm, which turned 25 this year. It'll include remixes from Pharrell, CeeLo, and J. Cole, whose rework of "Can I Kick It?" (which thankfully doesn't mess with the classic too drastically) you can check out below.