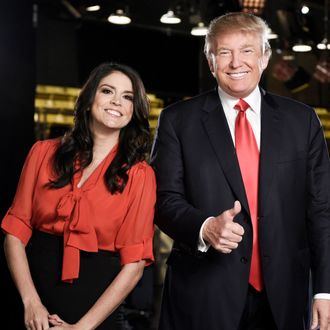 Donald Trump on SNL.
Photo: Dana Edelson/NBC/NBCU Photo Bank via Getty Images
Thanks to FCC regulations, everyone who's running for president is entitled to 12 minutes and 5 seconds of free airtime on NBC this week, to match what Donald Trump got when he hosted Saturday Night Live. That's a pretty significant chunk of TV real estate — it's roughly double how much Daenerys you get in a typical episode of Game of Thrones. How should each candidate make best use of such a bounty? Here's your guide to which NBC shows should play host to Trump's opponents in the Republican primary. (The Democrats get it, too, but you could not pay us enough money to try to come up with a good Martin O'Malley joke.)
Jeb Bush — Heroes Reborn
Jeb would surely relish the opportunity to reboot a thing that was popular in the 2000s before a stunning miscalculation made its name synonymous with folly and hubris.
Ben Carson — Chicago Med
Man, remember Kings? Ben Carson would have been a natural for Kings. Instead, we'll give him a recurring role in Dick Wolf's upcoming Chicago Fire spinoff as a soft-spoken doctor whose past is shrouded in mystery — even to himself.
Marco Rubio — Today
Smile! No, bigger. No, bigger. No. Bigger.
Ted Cruz — Blindspot
An unconscious naked woman is found in Times Square, her body covered in tattoos. Can anyone decode these clues? Tonight on Blindspot, Jane and Weller visit the one man who may be able to make sense of it all: Princeton symbologist Ted Cruz!
Carly Fiorina — The Celebrity Apprentice
If you can do it to 30,000 HP employees, you can do it to Bethenny Frankel.
John Kasich — Law and Order: SVU
This week, a case ripped from the headlines! A mild-mannered governor of Ohio who hides a horrible secret: He's the only politician in America who has no horrible secret.
Mike Huckabee — The Tonight Show Starring Jimmy Fallon
Tonight on Fallon: Jimmy and Naomi Watts play "I Heart Huckabee," where they put on blindfolds and compete to see who can throw the most hearts on a Velcro-suited Mike Huckabee.
Chris Christie — Truth Be Told
People are too fragile these days. It's time for some straight talk from a person who's not afraid to say what they're really thinking. *22 minutes of blather about teachers' unions*
Rand Paul — The Blacklist
You know he's got a fedora in there somewhere.
Rick Santorum — Undateable
Thursday, on an all-new Undateable: The gang welcomes former Pennsylvania senator Rick Santorum, who teaches the guys that kissing is a sin and shows off his favorite pickup strategy: telling women what to do with their bodies.
Bobby Jindal — Last Call With Carson Daly
Sorry, Bobby.