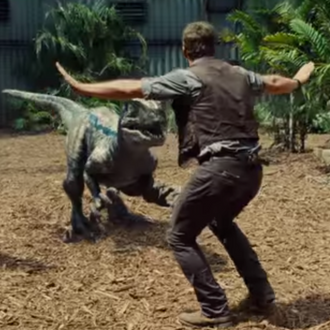 Stronger, faster, more profitable.
Proving that the only thing more inevitable than scientists going too far in blockbuster franchises is Hollywood committing to those franchises way in advance, Universal Pictures chairman Donna Langley revealed to The Hollywood Reporter that, back at the lab, director Colin Trevorrow is cooking up not one, but two Jurassic World sequels.
"Colin Trevorrow is busy working on an outline," Langley said in a roundtable conversation. "He's been working with Steven [Spielberg]. And they have an idea for the next two movies, actually. It was designed as a trilogy, unbeknownst to us. It's a happy surprise."
News of the first sequel broke quickly after Jurassic World broke all sorts of box-office records this summer, with the promise that Chris Pratt and Bryce Dallas Howard would reprise their roles in the June 2018 release as a stunningly attractive dinosaur tamer and a businesswoman in charge of the presumably now-defunct titular theme park. There's no word on whether the two will also appear in the third film, which will probably center on people deciding it's a good idea to clone dinosaur DNA in some capacity, because we seem to have trouble with this lesson.
Given Trevorrow's commitment to Star Wars IX, the third Jurassic World (or, as it would be called in a perfect universe, Triassic World) might take a long time to reach theaters. Perhaps to speed up the process, Trevorrow could sketch the outline of the third film and then hand the project off to one of those female directors he's so crazy about. Wouldn't that be fun?