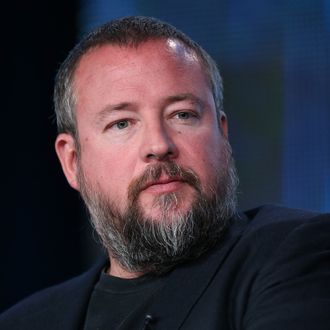 Vice's Shane Smith.
Photo: Frederick M. Brown/2013 Getty Images
Vice is coming to another screen near you, as WSJ reports that the edgy media group is working with A&E to finalize what is likely an equally edgy TV channel. The paper's sources say Vice will take over more than half of the network's preexisting H2 channel (an offshoot of History), and will give A&E a 15 percent ownership stake in return. (WSJ notes an official announcement about the deal and its full details will likely unfurl tomorrow.) Variety reports February 29 marks the latest launch date, though this move was supposed to take shape and bear fruit this fall after an initial $250 million A&E investment.
The updated news comes at a time of strong growth for Vice, which is reportedly on pace to book $1 billion in revenue this year and hoping to kick off between ten and 15 more international channels next year. The full roster of shows for its Stateside channel are unavailable at the moment; however, Vice teased Gaycation With Ellen Page, Weediquette, Vice Portraits With Marc Maron, Black Market With Michael K. Williams, and Action Bronson's Fuck That's Delicious, among a few others, at a nebulous NewFronts presentation earlier this year. Get ready.