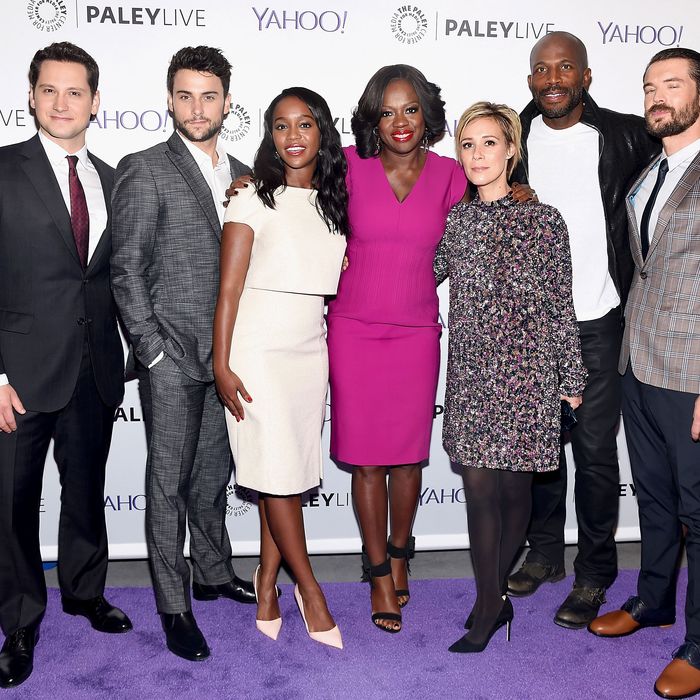 Hot for teacher.
Photo: Jamie McCarthy/Getty Images
How to Get Away with Murder has amped it up for its second season: More sex! More murder! More getting away with murder! As usual, the cast of the Shondaland hit didn't give away any plot details at the PaleyLive panel Thursday night, but they did have a lot to say about what boundaries they were (or weren't) willing to cross as actors. The cast, including Viola Davis, Aja Naomi King, Jack Falahee, Charlie Weber, Liza Weil, Matt McGorry, and Billy Brown, talked with EW's Henry Goldblatt about how realistic the sex scenes are, and who they were willing to slap (or not).
Nope, that's not how Viola Davis has sex in real life.
Viola Davis knows her character does not have realistic sex. In fact, she's pretty sure all of the sex scenes on the show go a little far. "Now we know people don't have sex like that. Nobody puts down the towel," she said, shaking her head. And as far as those steamy scenes against a wall, Davis says she's got to take her wig off first. "People don't get thrown up against a wall, she said. "I mean I threw my neck out."
Jack Falahee hints at a sex scene involving toes.
The sexually adventurous Connor Walsh will continue to explore new sexual terrain. "It's a little awkward to walk into a law classroom and 69 someone," said Jack Falahee, the actor who plays him. But there have been some scenes that have been edited out. "There were a lot of toe scenes," he said. "I'm actually just gonna sell those outtakes backstage later."
Viola Davis insisted Cicely Tyson play her mother.
Viola Davis adores her idol and former Help costar Cicely Tyson. So when it came to casting her mother, Tyson was Davis's first and only pick. "They said, 'Who do you want?' I said, 'I want Ms. Cicely Tyson — that's who I want to play my mother," Davis said. She also pushed for the casting choice because the two women were age-appropriate. "They do that with women of color a lot: They'll cast a 40-year-old woman to play a 90-year-old woman," she said. "I'm 50. Ms. Tyson is 90, but she kind of looks 60."
When it comes to Annalise, Viola Davis asks, "Why not?"
An audience member asked Davis about how she is able to make her character so relatable — and a relatable badass to boot. Davis said she wants to portray the kind of woman that she knows in life, not the kind of woman we see repeatedly on TV. "The art begins when you ask the question, 'Why not?' she said. "Or, 'Why can't I? Why can't I take my wig off? Why can't I walk funky in heels? Why can't I represent the broad spectrum of depth of what it means to be a woman? Why can't I?' And that was my big 'aha' moment, and I ran with that. I used myself."
Aja Naomi King would not slap Lynn Whitfield.
Aja Naomi King is not about to get her character Michaela Pratt killed off the show. And she was pretty sure that's what would have happened had she actually slapped her character's almost-mother-in-law, played by Lynn Whitfield. King said that when she read that she was to slap Whitfield, that move was a no-go for Michaela. "She would have beat the crap out of me, thrown the table over," she said. "So, we had a whole discussion, and it was like, "OK, if I do slap her, she has to slap me back, and it has to knock me out.' She needs to be the stronger character in the moment."
Liza Weil read Hanya Yanagihara's A Little Life to prepare for her character.
Like her mentor Annalise, Bonnie, played by Liza Weil, has got a lot going on. So, when show writers gave her character a backstory that involved years of child abuse, she did her research. She told Vulture that in between seasons she spoke with people from RAINN (Rape, Abuse, and Incest National Network) for information and resources and read Hanya Yanagihara's A Little Life to give her a "fictionalized sense" of the struggle of sexual assault. "It's something we try to handle with sensitivity and respect," she said.