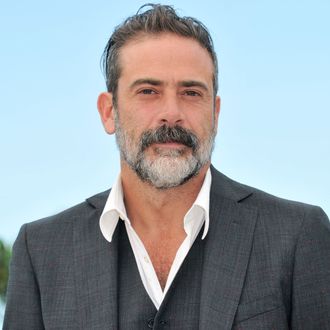 From The Good Wife to pure evil.
Photo: People Avenue/Corbis
The villain you've all been waiting for is coming. TV Line reports that The Walking Dead has cast Jeffrey Dean Morgan as Negan, the big, bad baddie from the comics. We're expecting to see him sometime toward the end of this current sixth season, after the midseason hiatus, and then again in the seventh season (which makes sense, considering that Tom Payne was cast as Jesus in September). The Good Wife fans might feel a little jilted: Morgan joined the cast this season as Alicia Florrick's new confidante and investigator (basically her new Kalinda), meaning it's unlikely his stint as a regular will last beyond the current season if he continues on The Walking Dead.
[Spoilers ahead.]
More pertinently, this may raise questions (once again) about the fate of Glenn, played by Steven Yeun. There's some evidence to suggest that Glenn survived the zombie horde, but also, Yeun is no longer in the opening credits. In the comics, Glenn infamously dies at the hands of Negan, but as we all know, the television show has made many departures from the plotlines of the comic books, so this might just be wishful thinking on our part that Glenn dies later rather than sooner.