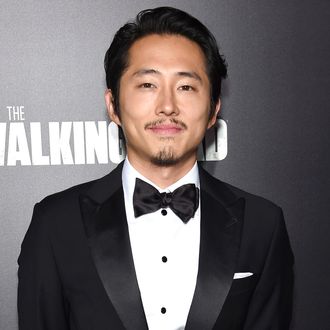 Steven Yeun cleans up pretty well.
Photo: Jamie McCarthy/Getty Images
#GlennGate finally ended mere minutes into Sunday night's episode of The Walking Dead when we discovered that Steven Yeun's Glenn managed to survive the zombie herd. For weeks, fans have been tormented by Glenn's fate, overanalyzing screenshots and GIFs of the moment he supposedly died. (Ahem.) "I've been following everything you've been saying and it's meant so much to me to see all of your support and concern for Glenn," Yeun said during a commercial break during Into the Badlands. "I'm happy to be back."
Yeun addressed his character's fate in further detail on The Talking Dead with Chris Hardwick. "I have not been out much," he said. "I frequent a lot of take-out. My apartment looks like a hoarder's house." Of course, it's great for him to not have to dodge the question anymore. "I feel relieved. I feel very grateful. I feel so amazed at the response. I feel bad that I couldn't say anything to everyone and family and friends. I'm pretty sure I've lost friendships along the way. But yeah, it's kind of been overwhelming. I didn't even really know how to take it all."

Showrunner Scott Gimple said he wanted to create a sense of "uncertainty" for the viewer like the characters themselves would experience in their post-apocalyptic existence. "It was important this year to do a story about uncertainty, for the audience to share that uncertainty," said Gimple. "Maggie didn't know what happened to Glenn, and I wanted the audience to feel the exact same way." For Yeun, it also meant showing that the good guy can still be good and survive. "I think it proves that this world still can take that story of the good guy winning sometimes," said Yeun. "I really like the fact that it's not this bent of always seeking out something miserable happening on television or something terrible and sulking on that and rather just really accepting the fact that sometimes good guys survive." Well, for now.