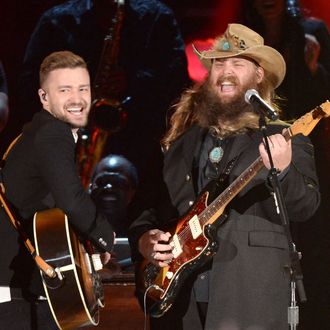 This was incredible.
Photo: Image Group LA/ABC/Getty Images
We've got a big ol' crush on the Country Music Association Awards this year. The 2015 CMAs (unlike last year's) balanced the exceedingly weird (lookin' at you, Brad Paisley) with the exceedingly awesome to great avail. Veteran co-hosts Carrie Underwood and Paisley led the night with their usual shtick (eight times they've done this now!), which meant Hillary Clinton jokes, a dig at the newly divorced (and newly rebounding) Blake Shelton, and … William Shatner? Told you it got weird!
But the show also got it surprisingly right, snubbing some of country music's most popular names for fresh faces like Chris Stapleton, who walked away with Album of the Year, New Artist of the Year, and Male Vocalist of the Year for his incredible debut, Traveller. Little Big Town crushed the competition with their controversial (to conservative radio) hit "Girl Crush," which won Song and Single of the Year. Of course, Luke Bryan predictably took home the coveted Entertainer of the Year award. But last night's CMAs were all about the unpredictable, including the showstopping new superduo of Justin Timberlake and Chris Stapleton. Here are a few of the moments that made the night so great.
Brad and Carrie's opening monologue: No night that starts off with Shatner singing "Girl Crush" and Paisley in his underwear can go wrong.
Justin Timberlake and Chris Stapleton: The show's producers probably should've saved this one for the finale, because nothing in the hour that followed topped JT + CS dueting on Stapleton's "Tennessee Whiskey."
Miranda Lambert: A pink-haired Lambert gave the CMAs its best rock-star moment (sorry, Fall Out Boy) with a feisty rendition of "Bathroom Sink." She'd later go on to win Female Vocalist of the Year — stanning for Chris Stapleton with a tour tee — saying she "needed a bright spot this year." Cue all our tears.
Kacey Musgraves: The first country artist to ever perform at the Apollo brought all the unicorns, rainbows, and pink that My Little Pony and Lisa Frank could ever dream of to the CMAs stage. What's not to love?
Pentatonix: What is an a cappella group doing at a country music awards show, you ask? To cover "Elvira" to a standing ovation, of course!
Little Big Town: Don't be surprised to see this group on the Grammy stage come February.
Reba McEntire with Brooks & Dunn: Country music may be experiencing one of its best years in ages, but to understand how it got so good, allow Reba and Brooks & Dunn to remind you how a couple of (still great) legends paved the way.