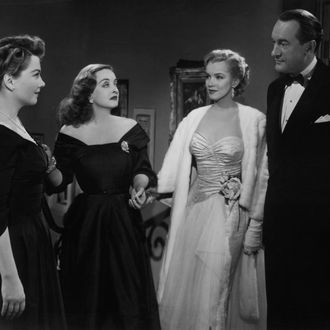 Photo: Michael Ochs Archives/Getty Images
Each month, several films and TV shows leave Netflix's catalogue. We provide a list of titles bidding adieu. For more comprehensive coverage of the best titles available on Netflix and elsewhere, check out Vulture's What to Stream Now, which is updated throughout the month. Note that most of these movies cut town on December 1, meaning you'll want to put your Thanksgiving break to good use.

It's gonna be a bumpy ride: All About Eve (1950)
As a paranoid theater actress convinced a young rival (Anne Baxter) is trying to steal her spotlight, Bette Davis turns in one of the most iconic performances of her career — alternately intimidating and deeply insecure. The dialogue is snappy. The set dressing is gorgeous. And nobody has been able to deliver a one-liner in a fur coat like Davis, either before or since. Leaving December 1.
[Hans Zimmer horn blare]: Batman Begins (2005)
Soon, Batfleck will grace our screens. Before then, why not check in on the film that arguably started the modern superhero tsunami? Ponder how the world could have been different — if Christian Bale didn't get the part, if Katie Holmes had stayed on for the next two movies, if Christopher Nolan had never made his Batman movies at all and we all lived in some superhero-drained alternate reality. (I like to think rom-coms are big there). Leaving December 1.
Before Chicken Run there was: The Great Escape (1963)
World War II! James Garner! Richard Attenborough! Steve McQueen on a motorcycle! Men digging tunnels to escape the Nazis! Steve McQueen on a motorcycle! To quote some jingoistic '60s version of Stefon, The Great Escape has everything. Leaving December 1.
Say a little prayer to: My Best Friend's Wedding (1997)
Julia Roberts's greatest rom-com — better than Notting Hill, obviously better than Pretty Woman; I'm willing to fight you on this — My Best Friend's Wedding is part slapstick comedy, part musical, and part treatise on the way romantic delusions can roll into people's minds like summer thunderstorms, hurtling logic like a lawn chair into the wind. Basically, it makes no sense that Julia Roberts would care that much about Dermot Mulroney, but who are we to judge? Leaving December 1.
Hello, Clarice: The Silence of the Lambs (1991)
The rare film to win the big four at the Oscars (Best Actor, Best Actress, Best Director, and Best Picture), The Silence of the Lambs has all the horror you remember, with some skillful performances to boot. Just remember not to bring fava beans — or Chianti — to the watch party. Leaving December 1.
TELEVISION
December 1
The Avengers: Earth's Mightiest Heroes (Season 1)
The Guardian (Seasons 1–3)
December 10
Ultimate Spider-Man (Season 2)

December 11
The Avengers: Earth's Mightiest Heroes (Season 2)
Rescue Me (Seasons 1–7)
MOVIES
December 1
All About Eve (1950)
Batman Begins (2005)
Beverly Hills Cop III (1994)
Brian's Song (1971)
Brian's Song (2001)
The Brothers Grimm (2005)
The Burbs (1989)
Cop Land (1997)
Damien: Omen II (1978)
The Dark Crystal (1982)
Employee of the Month (2006)
Forces of Nature (1999)
Get Low (2009)
The Great Escape (1963)
The High and the Mighty (1954)
The Hustler (1961)
Insomnia (2002)
Juice (1992)
K-19: The Widowmaker (2002)
Labyrinth (1986)
Last Night (2010)
Left Behind II: Tribulation Force (2002)
Left Behind: The Movie (2000)
Left Behind: World at War (2005)
Modern Problems (1981)
Necessary Roughness (1991)
The Omen (1976)
Omen III: The Final Conflict (1981)
The Paw Project (2013)
The Pink Panther 2 (2009)
R.L. Stine's Mostly Ghostly (2008)
R.L. Stine's The Haunting Hour: Don't Think About It (2007)
Shrink (2009)
Soapdish (1991)
Trek Nation (2011)
Two Can Play That Game (2001)
December 4
Mickey Mouse Clubhouse: Road Rally (2010)
December 6
360 (2011)
The Oogieloves in the Big Balloon Adventure (2012)
December 9
C.O.G. (2013)
December 12
Why Did I Get Married? (2007)

December 13
How to Build a Better Boy (2014)
Thor & Loki: Blood Brothers (2011)
December 15
Bridget Jones: The Edge of Reason (2004)
December 17
Underclassman (2005)
December 21
Red Hook Summer (2012)
December 24
Una Noche (2012)
December 30
Bronies: The Extremely Unexpected Adult Fans of My Little Pony (2013)
For more details on the best film and television available online, consult Vulture's What to Stream Now.