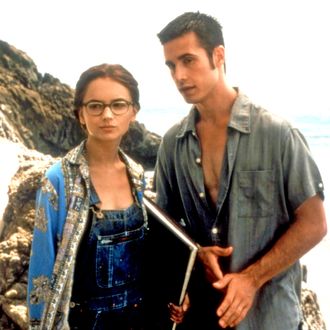 At the beginning of (and throughout) every month, HBO adds new movies and TV shows to HBO Go and HBO Now. Here is a quick list of several you might be interested in. Feel free to note anything we've left out in the comments below — and for more comprehensive coverage of the best titles available on HBO Go/Now and elsewhere, check out Vulture's What to Stream Now, which is updated throughout the month.

Only '90s kids will get this: She's All That (1999) and 10 Things I Hate About You (1999)
HBO has gotten into the nostalgia game with She's All That and 10 Things I Hate About You, two entries from the halcyon days of high-school comedy. The former's a classic case of a makeover with "unexpected" (read: exactly what you expected) results, while the latter follows in the footsteps of Clueless to adapt a piece of classic literature (Shakespeare's Taming of the Shrew) for the pimpled masses. She's All That is fun, but 10 Things is a high point of the genre, from its weird investment in grunge-era Seattle (one scene has a riot grrrl bar is peopled almost exclusively with female extras in flannel), to Julia Stiles's one-liners and Heath Ledger's pout — this is high-school comedy at its campy, sentimental best. Available December 1.

I wish I knew how to quit you: Brokeback Mountain (2005)
In the ten years since Brokeback Mountain's release, the gay-rights movement has accelerated, and the film's relative quietude — and infamously tidy sex scenes, per a deleted scene from Knocked Up — make it seem quaint in comparison to the kind of adaptation that might get a release today. But there's something to be said for Ang Lee's restraint and the quietly complex work he got out of Jake Gyllenhaal and Heath Ledger (the tragedy of the end of his life adds another layer of poignancy to the film). This is a universal love story, sure, but also a film about a kind of persecuted love made in a time when that love lacked even the tenuous acceptance its champions have won today. Brokeback Mountain is both an artifact of the elision that still vexes so many mainstream queer projects and a testament of the pain of living an elided life. Available December 1.

Holy cow! Home Alone (1990)
Home Alone is doing the internet victory tour in honor of its 25th anniversary, so why not lean into the nostalgia and rewatch American film's great celebration of miscounting your children and enacting bodily harm upon burglars? Available December 1.
I Hate My Husband Pie: Waitress (2007)
An unhappily married waitress (Keri Russell) deals with her life's many shortcomings by making pies. The late writer and director Adrienne Shelly took a whimsical premise and filled it with a mix of heart and bitter wit, which Russell serves up with meticulous thorniness. This is a complex portrait of a woman too easily, and inaccurately, defined by others. And, not for nothing, Waitress comes to streaming just in time, as a musical adaptation with songs from Sara Bareilles is coming to Broadway. Available December 1.

You have to go back: The Leftovers (Season 2 Finale)
Okay, so The Leftovers is already in the middle of airing its second season, so this is mostly a reminder that the show has gotten stratospherically better in recent episodes. If you loved the ambition of Lost, if you like challenging, complex television, if you have two eyes, ears, and a heart and are thus capable of physically processing what happens when Carrie Coon or (better yet: and) Regina King appears onscreen, catch up! Available December 6.

TELEVISION
Vice Special Report: Countdown to Zero (December 1)
The Leftovers  (Season 2 Finale) (December 6)
U2: iNNOCENCE + eXPERIENCE Live in Paris (December 7)
Getting On  (Season 3 Finale) (December 13)
Magnifica '70  (Season 1 Finale) (December 18)
Bolshoi Babylon (December 21)
Heroin: Cape Cod, USA (December 28) 
MOVIES
Available December 1:
10 Things I Hate About You (1999)
Annie Hall (1977)
Brokeback Mountain (2005)
Disturbia (2007)
Divergent (2014)
Girlfight (2000)
Home Alone (1990)
Less Than Zero (1987)
Mystic Pizza (1988)
Robocop (1987)
Robocop 2 (1990)
Robocop 3 (1993)
She's All That (1999)
Soul Plane (2004)
Spaceballs (1987)
Waitress (2007)
Available later in December:
Completo (2009) (December 4)
Get Hard (2015) (December 5) (Original and Extended Cuts)
What We Do in the Shadows (2015) (December 11)
Ciudad Delirio (2014) (December 12)
Wish I Was Here (2014) (December 13)
The Divergent Series: Insurgent (2015) (December 12)
Olvidados (2014) (December 18)
The Longest Ride (2015) (December 19)
A Little Chaos (2014) (December 21)
The Water Diviner (2014) (December 26)
For more details on the best film and television available online, consult Vulture's What to Stream Now.