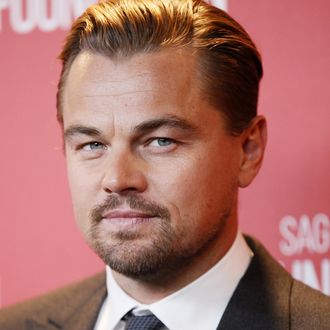 Leo!
Photo: Danny Moloshok/Reuters/Corbis
Leonardo DiCaprio, prince of the city, celebrated his 41st birthday on Wednesday night with a party at New York's nightclub Marquee. As would befit any royal court, a number of boldfaced names were in attendance — enough, in fact, for us to pose this riddle to you: Which of the celebrities below were not in attendance?
• Pineapple-haired crooner Abel "The Weeknd" Tesfaye?
• His teenage paramour, Bella Hadid, countess of Calabasas?
• Sorrel bard Ed Sheeran?
• Protein-shake villain Busta Rhymes?
• Anthropomorphic cheekbone Tyson Beckford?
Watch the TMZ video below to get your answer!
The answer, of course, is that it was a trick question — all of those people were there. Happy birthday, Leo!