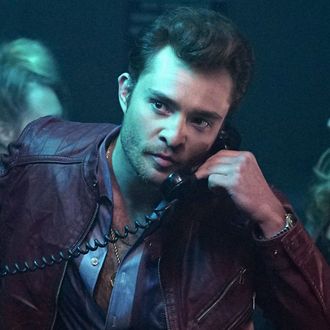 ABC chucks Chuck Bass.
Photo: Eric McCandless/ABC
Wicked City, ABC's 1980s drama about a murderous couple (Erika Christensen and Ed "Chuck Bass" Westwick), has gotten the ax, EW reports. When the show first premiered, reviewers agreed that it was "wicked lousy" and called it "offensive, predictable and awful," like most of Chuck Bass's actions on Gossip Girl. Wicked City's ratings were lower than Chuck Bass's sultry vocal register — this week's episode had only 1.7 million viewers and a 0.4 rating among adults 18 to 49 — and, like Chuck Bass in the eyes of his father, the series seemed flawed to the core. So, just as Blair once decided to leave Chuck Bass behind and go to Tuscany alone, ABC has announced that it would immediately pull Wicked City from its lineup and continue on without it. Other fall series have had their orders cut short recently — Minority Report, The Player, and the Chace "Nate Archibald" Crawford–starring Blood & Oil are all airing fewer episodes — but just as Chuck "I'm Chuck Bass" Bass always had to stand out, so too does Wicked City; it is the only new series to receive an official cancellation so far.