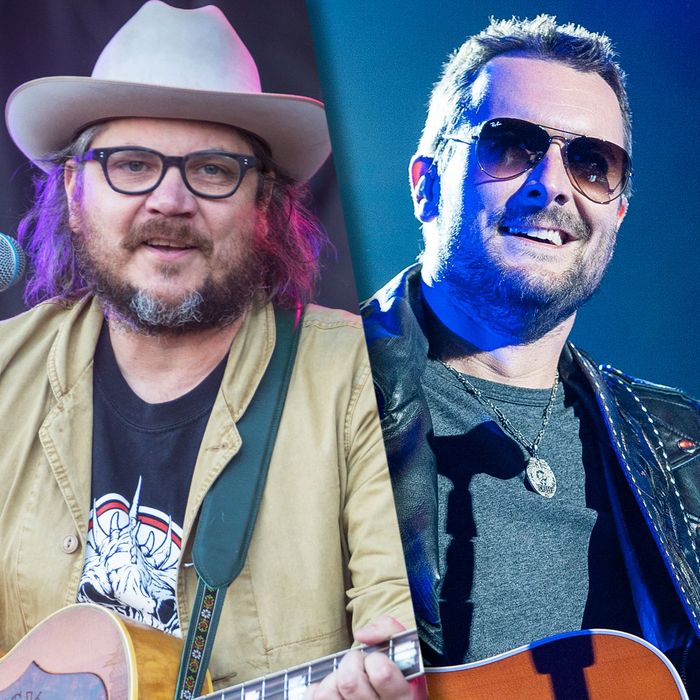 Not-so-distant cousins.
Photo: Corbis
"I would never categorize ourselves as specifically country," Jeff Tweedy told Boise Weekly three years ago about his band Wilco's disassociation with categories. (A stance he's since expanded to include his frustration with the term dad rock, no matter how literal the meaning.) The band have never fit comfortably within one singular genre, pulling elements from alternative, psychedelia, and country on every album, including Star Wars, surprise-released earlier this year. In a 1997 Rolling Stone profile on Wilco, David Fricke noted that the group — who started as an offshoot of Tweedy's previous actual alt-country band, Uncle Tupelo — "sound more like a power-pop dream machine than some premillennial reincarnation of the Flying Burrito Brothers." Though they've distanced themselves even further from country since the delicious twang of first album A.M., Wilco's association with the genre just doesn't end. "Yankee Hotel Foxtrot actually comes up as 'country' under iTunes," Tweedy mentioned in his Boise Weekly interview. "We got a pretty good laugh out of that."
That's why it's amusing that on Eric Church's own new surprise album, Mr. Misunderstood, released during the CMAs last night, Wilco appear via both name-check and obvious inspiration. (What would a great Eric Church single be without a rock-and-roll shout-out?) On the second verse of the album's title track (and further rumination on Church's outsider status), he sings:
Now, your buddies get their rocks off on Top 40 radio
But you love your daddy's vinyl, old-time rock and roll
Elvis Costello, Ray Wylie Hubbard, and think Jeff Tweedy is one bad mother
Mr. Misunderstood, Mr. Misunderstood.
It's more than just a coincidence that Church singles out Tweedy for praise alongside even bigger legends (both of whom play country music, among other styles): "Mr. Misunderstood" is a direct descendant of Wilco's own grittier "Misunderstood," off 1996's Being There, which also has Tweedy feeling out of place in own his hometown. He, too, "still loves rock and roll" — a line that undoubtedly resonated with Church for his own take on the song, which also has some melodic similarities to Wilco's original.
The line between theft and homage in music grows more complicated every day, and certainly no one's accusing Church of borrowing from a band that's evidently had a lasting influence on his current work. But it's a curious thing to see that no matter how much Wilco try to distance themselves from country music and the rigid labels that accompany it, the associations endure. It's almost as if Jeff Tweedy is … Mr. Misunderstood?