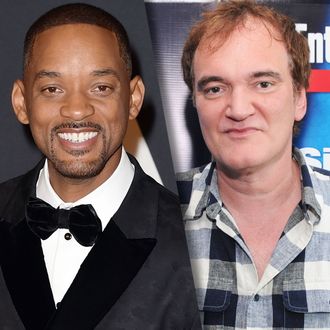 Smith and Tarantino.
Photo: Getty Images
During THR's recent actor roundtable, Will Smith was asked why he passed on the lead role in Quentin Tarantino's Django Unchained. Smith stated that while he thought the story was perfect, he was turned off by the violent nature of the film. Smith thought the story of "a guy that learns how to kill to retrieve his wife that has been taken as a slave" should be "the greatest love story that African-Americans had ever seen." Describing his interactions with Tarantino, Smith said:
We talked, we met, we sat for hours and hours about it. I wanted to make that movie so badly, but I felt the only way was, it had to be a love story, not a vengeance story. I don't believe in violence as the reaction to violence. So when I'm looking at that, it's like: "No, no, no. It has to be for love." We can't look at what happens in Paris [the terrorist attacks] and want to fuck somebody up for that. Violence begets violence. So I just couldn't connect to violence being the answer. Love had to be the answer.
In response, fellow roundtable participant Samuel L. Jackson (who played a supporting role in Django) joked that the greatest love story that black people have ever seen exists already: "It's Love Jones."