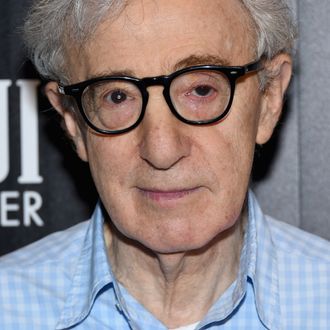 Woody Allen.
Photo: Dimitrios Kambouris/2015 Getty Images
The east and west factions of the Writers Guild of America have published their official list of 101 funniest screenplays, revealing Woody Allen and Marshall Brickman's Annie Hall as their top pick. Members of both guilds voted on the films, which had to have had theatrical releases, English-language scripts, and hour-plus run times (live-action, animated, silent, and doc features were eligible; films without onscreen credits were not), according to the WGA.
Seven Allen scripts total found their way into the results; Mel Brooks and Preston Sturges also fared well, popping up amid more contemporary, varied comedy powerhouses, including Eddie Murphy, Tina Fey, and Kristen Wiig, among others. As a whole, the results showcase the best from almost a century of hilarious filmmaking (for your debating pleasure, of course), but they also underline more of the industry's historic and still-changing imbalance in behind-the-scenes diversity, which the WGA notes in a prelude on its website: "Comedy screenwriting has long been a playground that women and writers of color have not had enough time in," WGA's Paul Brownfield writes. "The work of Richard Pryor on Blazing Saddles, Tina Fey on Mean Girls, Amy Heckerling on Clueless, and Hagar Wilde, co-writer of Bringing Up Baby, makes you wonder what a list would be if the playground had been more inclusive all along."
Although other criteria and voting methods were not released, Brownfield continues: "The best comedy writers and comedians are like astronauts, launching themselves beyond the ozone layer of the tasteful and the expected in order to find the forbidden or the outrageous or the merely uncomfortable," for the goals of provocation and truth.
Read on for the full list, which includes a mix of classic and recent scripts, spanning nearly nine decades of filmmaking and almost as many sub-genres of comedy (via WGA):
Annie Hall
Woody Allen and Marshall Brickman
Some Like It Hot
Billy Wilder and I.A.L. Diamond
Groundhog Day
Danny Rubin and Harold Ramis
Airplane!
James Abrahams, David Zucker, and Jerry Zucker
Tootsie
Screenplay by Larry Gelbart and Murray Schisgal; story by Don McGuire and Larry Gelbart
Young Frankenstein
Screenplay by Gene Wilder and Mel Brooks; screen story by Gene Wilder and Mel Brooks
Dr. Strangelove or: How I Learned to Stop Worrying and Love the Bomb
Stanley Kubrick, Peter George, and Terry Southern
Blazing Saddles
Screenplay by Mel Brooks, Norman Steinberg, Andrew Bergman, Richard Pryor, and Alan Uger; story by Andrew Bergman
Monty Python and the Holy Grail
Graham Chapman, John Cleese, Terry Gilliam, Eric Idle, Terry Jones, and Michael Palin
National Lampoon's Animal House
Harold Ramis, Douglas Kenney, and Chris Miller
This Is Spinal Tap
Christopher Guest, Michael McKean, Rob Reiner, and Harry Shearer
The Producers
Mel Brooks
The Big Lebowski
Ethan Coen and Joel Coen
Ghostbusters
Dan Aykroyd and Harold Ramis
When Harry Met Sally …
Nora Ephron
Bridesmaids
Annie Mumolo and Kristen Wiig
Duck Soup
Story by Bert Kalmar and Harry Ruby; additional dialogue by Arthur Sheekman and Nat Perrin
There's Something About Mary
John J. Strauss, Ed Decter, and Peter Farrelly and Bobby Farrelly; story by Ed Decter and John J. Strauss
The Jerk
Screenplay by Steve Martin, Carl Gottlieb, and Michael Elias; story by Steve Martin and Carl Gottlieb
A Fish Called Wanda
Screenplay by John Cleese; story by John Cleese and Charles Crichton
His Girl Friday
Charles Lederer
The Princess Bride
William Goldman
Raising Arizona
Ethan Coen and Joel Coen
Bringing Up Baby
Screenplay by Hagar Wilde and Dudley Nichols; story by Hagar Wilde
Caddyshack
Brian Doyle-Murray, Harold Ramis, and Douglas Kenney
Monty Python's Life Of Brian
Graham Chapman, John Cleese, Terry Gilliam, Eric Idle, Terry Jones, and Michael Palin
The Graduate
Calder Willingham and Buck Henry
The Apartment
Billy Wilder and I.A.L. Diamond
Borat: Cultural Learnings of America for Make Benefit Glorious Nation of Kazakhstan
Screenplay by Sacha Baron Cohen, Anthony Hines, Peter Baynham, and Dan Mazer; story by Sacha Baron Cohen, Peter Baynham, Anthony Hines, and Todd Phillips
The Hangover
Jon Lucas and Scott Moore
The 40-Year-Old Virgin
Judd Apatow and Steve Carell
The Lady Eve
Screenplay by Preston Sturges; story by Monckton Hoffe
Ferris Bueller's Day Off (tied)
John Hughes
Trading Places (tied)
Timothy Harris and Herschel Weingrod
Sullivan's Travels
Preston Sturges
Planes, Trains and Automobiles
John Hughes
The Philadelphia Story
Donald Ogden Stewart
A Night at the Opera
George S. Kaufman and Morrie Ryskind
Rushmore
Wes Anderson and Owen Wilson
Waiting for Guffman
Christopher Guest and Eugene Levy
The Odd Couple
Neil Simon
The Naked Gun: From the Files of Police Squad!
Jerry Zucker, Jim Abrahams, David Zucker, and Pat Proft
Office Space
Mike Judge
Big
Anne Spielberg and Gary Ross
National Lampoon's Vacation
John Hughes
Midnight Run
George Gallo
It Happened One Night
Robert Riskin
M*A*S*H
Ring Lardner, Jr.
Harold and Maude
Colin Higgins
Shaun of the Dead
Simon Pegg and Edgar Wright
Broadcast News
James L. Brooks
Arthur
Steven Gordon
Four Weddings and a Funeral
Richard Curtis
Anchorman: The Legend of Ron Burgundy (tied)
Will Ferrell and Adam McKay
Dumb and Dumber (tied)
Peter Farrelly, Bennett Yellin, and Bob Farrelly
Austin Powers: International Man of Mystery
Mike Myers
The General
Written by Buster Keaton and Clyde Bruckman; adapted by Al Boasberg and Charles Smith
What's Up, Doc?
Screenplay by Buck Henry, David Newman, and Robert Benton; story by Peter Bogdanovich
Wedding Crashers
Steve Faber and Bob Fisher
Sleeper
Woody Allen and Marshall Brickman
Galaxy Quest
Screenplay by David Howard and Robert Gordon; story by David Howard
It's a Mad, Mad, Mad, Mad World
Screenplay by William and Tania Rose; story by William and Tania Rose
Best in Show
Christopher Guest and Eugene Levy
Little Miss Sunshine
Michael D. Arndt
South Park: Bigger, Longer & Uncut
Trey Parker, Matt Stone, and Pam Brady
Being There
Jerzy Kosinski
Back to the Future
Robert Zemeckis and Bob Gale
Superbad
Seth Rogen and Evan Goldberg
Bananas
Woody Allen and Mickey Rose
Moonstruck
John Patrick Shanley
Clueless
Amy Heckerling
The Palm Beach Story
Preston Sturges
The Pink Panther
Maurice Richlin & Blake Edwards
The Blues Brothers
Dan Aykroyd and John Landis
Coming to America
Screenplay by David Sheffield and Barry W. Blaustein; story by Eddie Murphy
Take the Money and Run
Screenplay by Woody Allen and Mickey Rose; story by Jackson Beck
Election
Screenplay by Alexander Payne and Jim Taylor
Love and Death
Woody Allen
Dirty Rotten Scoundrels (tied)
Dale Launer, Stanley Shapiro, and Paul Henning
Lost in America (tied)
Albert Brooks and Monica Johnson
Manhattan
Woody Allen and Marshall Brickman
Modern Times
Charles Chaplin
My Cousin Vinny
Dale Launer
Mean Girls
Tina Fey
Meet the Parents
Screenplay by Jim Herzfeld and John Hamburg; story by Greg Glienna and Mary Ruth Clarke
Fargo
Joel Coen and Ethan Coen
My Favorite Year
Screenplay by Dennis Palumbo and Norman Steinberg; story by Dennis Palumbo
Stripes
Written by Len Blum, Dan Goldberg, and Harold Ramis
Beverly Hills Cop
Screenplay by Daniel Petrie, Jr.; Story by Danilo Bach and Daniel Petrie, Jr.
City Lights
Charles Chaplin
Sideways
Screenplay by Alexander Payne and Jim Taylor
Broadway Danny Rose
Woody Allen
Swingers
Jon Favreau
The Gold Rush
Charles Chaplin
The Miracle Of Morgan's Creek
Preston Sturges
All About Eve
Screenplay by Joseph L. Mankiewicz
Arsenic and Old Lace
Screenplay by Julius Epstein and Philip G. Epstein
The Royal Tenenbaums
Wes Anderson and Owen Wilson
Mrs. Doubtfire
Randi Mayem Singer and Leslie Dixon
Flirting with Disaster
David O. Russell
Shakespeare in Love
Marc Norman and Tom Stoppard