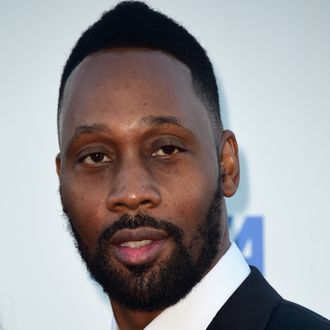 RZA.
Photo: Frazer Harrison/2015 Getty Images
The sole copy of Wu-Tang Clan's Once Upon a Time in Shaolin double album is finally someone else's property, according to reports. Paddle8, the auction house handling the sale, provided the update Tuesday, noting that a "private American collector" nabbed the piece of music history in May for a nebulous price "in the millions." The project, which has been likened to a unique Picasso original, is now officially the most expensive album ever sold. The buyer and sellers have spent months working out legal protections, which the L.A. Times cites as one of the main reasons for the delay in the news.
The identity of the buyer and the exact price are still being withheld, but the winnings reportedly include:
1 copy of Once Upon a Time (31 tracks, at least one of them featuring Cher)
1 174-page leather-bound manuscript (

printed on Fedrigoni Marina parchment, filled with the notes for every song)



1

silver-and-nickel box (the fruits of 11 artists' labors)
"The Wu-Tang Clan have always been driven by innovation, and this marks another moment in musical history," Wu-Tang's RZA said in a statement released to the media, adding that some proceeds will go to charity. "From the beginning, we hoped that this concept would inspire debate and new ways of seeing creativity. Both of those goals have been achieved, and the ideas continue to evolve."
If you're furious you won't be able to hear what Once Upon a Time sounds like, check out the below Forbes video to abate your feelings — likely the most you'll hear of the album for a while, because the buyer is unable to release the music commercially for the next 88 years:
Well, congrats, unknown buyer — when's the totally free, totally not-commercial listening party? Yeah, yeah, okay, never mind.