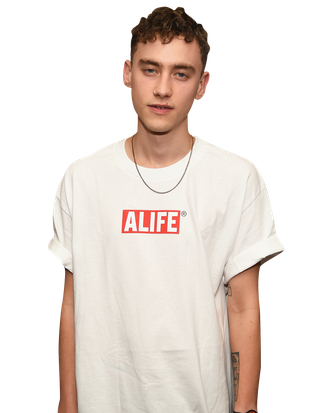 Olly Alexander may be best known as the front man of British synth-pop trio Years & Years, but even at 25, he's already on his second career. Until his band blew up this past year — their 2015 album, Communion, topped the U.K. charts and peaked at No. 1 on Billboard's Dance/Electronic chart — Alexander has been busy with a slew of independent-film roles, including this month's quirky comedy Funny Bunny, a socially stunted romance he co-wrote and starred in. Last week, the talented Alexander called up Vulture to discuss shifting gears between acting and singing and how he feels about the spotlight on his sexuality.
You co-wrote Funny Bunny with your two co-stars, Kentucker Audley and Joslyn Jensen, based on a story by director Alison Bagnall. How did you initially get involved?
Alison had a script called Funny Bunny that she sent to me in maybe 2009, and she offered me a part in it 'cause she'd seen a picture of me online, and she was like, "I want you to do the part," which was kind of crazy. I really loved that story, and then it ended up not happening, but Alison still wanted to make a movie, so she came up with this idea, and we made The Dish & the Spoon. And then four or five years later she was like, "I wanna make Funny Bunny, but I'm gonna rewrite it a bit, and would you still be up for doing it?" and I was like, "Yeah, 100 percent. I wanna be involved." It's fun getting the chance to have so much input into a project. It's really rare, especially for an actor like me.

You started acting years before you were part of this super-popular musical group; how is it to be going back to making this film after performing live all over the world?
Well, the thing is, we made Funny Bunny in August or September of 2013, and it was kind of the last thing I did before I just dropped the acting completely and stuck to doing music. So I haven't done any acting in quite a while, and it feels kind of strange talking about the movie, just 'cause I'm so used to talking about music these days. It's weird to be in two places at once — that's why I wanted to just focus on doing one thing, doing the music for a while.

So much of the movie deals with the distance and the intimacy of the internet. Now that your group has blown up in such a big way, do you feel any disconnect performing live versus interacting with fans on social media?
I think it's not so much a disconnect, but it's a challenge to maintain all these different platforms that your art ends up being experienced with because, you know, you aren't just somebody that tours live and does shows and that's it, and people buy your CD. That's not gonna work anymore.

Right, you're just sort of on all the time, everywhere.
Yeah, and I think the way fans — especially young fans — interact with culture, musicians, and whoever, it's very more, more, more. They want a piece of you all the time. And I'm happy to give it most of the time as well, because it is a really great way to connect with fans, and we built a fan base online, basically. We probably wouldn't, I don't think, have made it without the internet and having so much support from people around the world who weren't able to get to the shows. But it can definitely be sometimes really overwhelming because once you get to a certain point, there's just so much noise online that you want to reply to everybody, but then there are too many people to reply to. Now I'm like, Oh my god, it's just too many, you know? It's like … fuck. [Laughs.]

For a long time — when we first started getting a much higher level of attention — I really struggled with feeling like I was letting people down. Because when you do a show, there are, like, a hundred fans waiting to see you afterwards, and sometimes you can't see them. They all want pictures, and then all the people online are like, "We missed you!" I struggled for a while, like, Oh my god, it's too much! I've chilled out about it a bit now. You have to let that be a little bit.

Do you enjoy it? I know nothing is all good or all bad …
Yeah, exactly, it's a complex relationship, but there is a side that I really love and find fun because there's a community online that really closely follows what I do, but I also follow what they do. Like, I listen to the fans, and I actually like connecting with them. I feel very supported. I've been so impressed by kids who are teenagers … they're so awake, they're so much more tolerant than people of my generation, at my school. I never had access to a wider community like that. That's a really important thing.

When I was growing up, I didn't have any gay people to look up to, any gay musicians that were out and kind of proud about it. It must be exciting to be a visible figure in that way.
I constantly pinch myself that I'm able to. Because I think for me, personally, I still have this, like, you know, internalized … It's difficult being gay growing up, you know, typical for anyone, mostly. I struggled a lot coming out, and I have a bit of shame within me about it still. So I have these moments where I'm like, Oh yeah, we're popular, and I'm gay, and that's okay, and I have a platform now to speak about these things, and, like … fuckin' great. [Laughs.]

You've been open about your relationship with your boyfriend, Neil Milan [of Clean Bandit], who's also a musician and a performer. Have you found it different to be an out gay musician than to be an out gay actor?
I think that's an important question. I actually couldn't tell you, though, because I was never asked in an interview, I didn't have a platform, I didn't have Twitter, I didn't have anything … I wasn't at a level where my sexuality was discussed more than I wasn't discussing it. Until I started making music, and because the music is from me and my experiences, and I write a lot about gay relationships, it was really obvious then — and now it's cool, right? I have wondered whether it's easier for the world to accept a non-straight musician than it is for them to accept a non-straight actor. There's still a stigma that for male actors to play straight roles, they have to be straight. The majority of the film industry is, like, obsessed with a ridiculous gender binary and keeping with this stupid social binary. Like, who cares? Women are so appallingly represented in movies. I just think, every time I watch one, this is so unrepresentative of 90 percent of the world, why bother? It shouldn't have to be that way!