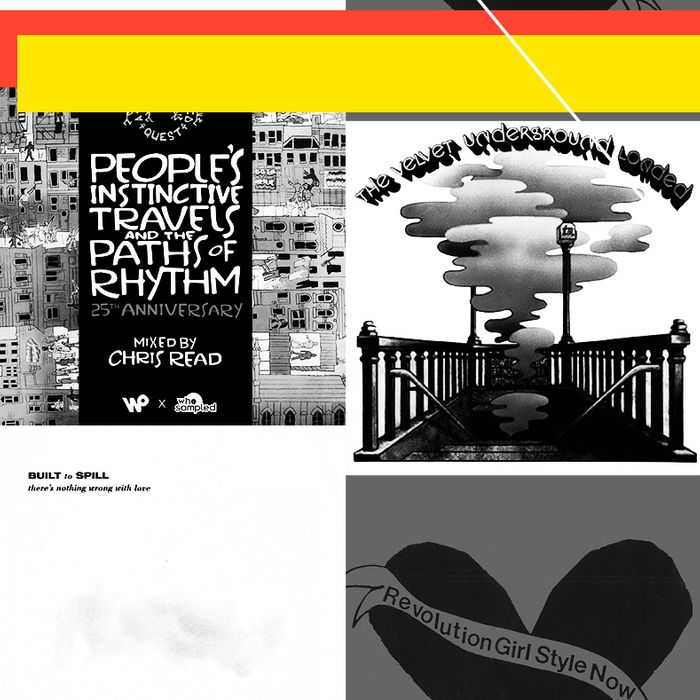 Photo-Illustration: Vulture
This month Vulture will be publishing our critics' year-end lists. Last week's lists included albums, art, and video games. This week we've covered comedy — sketches, specials, and podcasts — plus Margaret Lyons's top shows, Bilge Ebiri's top movies, and music videos and memes. Now it's on to late-night clips, comic books, graphic novels, and album reissues.
1. The Velvet Underground — Loaded (1970)
Lou Reed's final album with VU was dubbed Loaded for a reason: It's stacked with the Factory house-band version of pop hits. The band makes its intentions clear right away, too, opening with one of rock's most crucial trilogies to date ("Who Loves the Sun," "Sweet Jane," "Rock & Roll"). Loaded was among the first albums to signify a weird band making a play at commercialism — a phase in many acts' careers in the decades to come — but it's also one of greatest entries in that particular category. At this point, maybe even Lou would concede, "You know, it was all right."
2. A Tribe Called Quest — People's Instinctive Travels and the Paths of Rhythm (1990)
Though the added remixes from the likes of Pharrell and J.Cole bring virtually no new perspective to the recent reissue of Tribe's debut, that task in itself is near-impossible. Where the group that changed hip-hop started is better than where many others landed in their peak. To suggest that Kendrick, Kanye, OutKast, and more would not be who they are without Q-Tip, Phife, Ali, and (sure, why not) Jarobi is not hyperbole, but the great thing about People's Instinctive Travels and the Paths of Rhythm is that unlike some "important" records, this is a very fun listen, full stop. The sample work does a lot of the heavy lifting in that way, but even when Tip and Phife skew more socially conscious (as future Tribe albums would), like on "Push It Along," their lyricism is at once remarkably precise and casual.
3. Led Zeppelin — Physical Graffiti (1975)
Jimmy Page rolls right along with his remastering efforts, somehow managing to squeeze a little more oomph out of an album that helped to redefine the swaggering, genre-hopping rock-and-roll epic. Physical Graffiti is not the Zeppelin album people start with, but the run from "Houses of the Holy" to "Trampled Under Foot" to "Kashmir" makes one helluva case that it should be.
4. Built to Spill – There's Nothing Wrong With Love (1994)
The sophomore LP that launched one of the 1990s' most quintessential indie-rock bands is both big and small. The excitement Doug Martsch rings out of childhood anecdotes gone sideways with little more than his completely ordinary voice and his now-imitated guitar-playing (see: "Twin Falls") is something to cherish, but so are the jangly, distorted rocking-out moments like "Big Dipper," too.

5. Bikini Kill — Revolution Girl Style Now (1991)
At their best, reissues serve an almost archaeological purpose; this, the first release by feminist punk greats Bikini Kill, had not really been available outside of its initial cassette pressing until this year. Subversive music doesn't often stand up nearly a quarter of a decade later the way that Revolution Girl Style Now does. Listening to many of these songs — in which a pissed-off Kathleen Hanna rallies against sexual abuse and misogyny — remains akin to staring straight at the sun, particularly "Daddy's Li'l Girl" and "Suck My Left One."
6. The Isley Brothers — 3+3 (1973)
In a year when Kendrick Lamar reminded the masses that the Isley Brothers are far, far more than that song from the Swiffer commercials, the band's discography got a much-needed reissue, The RCA Victor and T-Neck Album Masters. From that boxed set, I most recommend 3+3, which is neither the most successful nor the tightest offering from long-running, ever-evolving soul-men. What makes 3+3 a real gem is that it finds the Isleys balancing their earlier soft soul with their impending force of funk. I'd say it takes a fair bit of musical talent to turn Seals & Crofts' "Summer Breeze" into a track you wouldn't be embarrassed to cue up in the bedroom. Plus, you know, the Swiffer song ("That Lady") is on 3+3, too, and the real thing's too indelible to be ruined by a damn mop company.
7. Tori Amos – Little Earthquakes (1992)
Tori Amos came out swinging on her debut, chronicling the burden of being female in a way that made her a beacon for many and alienated her from even more. With the remastering effort, the album's emotional centerpiece, "Me and a Gun," sounds even more like Amos is in the room, singing it right to you with the slightest tremble.
8. Frankie Knuckles – House Masters (compilation, 2015)
The ultimate mix of house music's ultimate mix-maker is a lovingly compiled one, bringing to light what the best sequences in DJ sets do: obscured gems you never even knew you needed, until suddenly you find your body gripped by a groove.
9. Lizzy Mercier Descloux — Press Color (1979)
Rock and disco were at each other's throats within the mainstream by the late '70s, but in downtown New York's punk, no wave, and art-rock underground, there was little closed-mindedness about genre experimentation. French musician-writer-artist-actress Descloux marries the two styles with plenty of tossed-off attitude and great bass lines on her largely forgotten solo debut. The best part: Press Color is sorta silly — she covers the Mission Impossible theme song, twice — which makes it endearing rather than pretentious. (I mean, it's still a little pretentious.)
10. Van Morrison — Astral Weeks (1968)
The Irish folk-rocker wasn't even 25 when he wrote what would become — after little initial acclaim — perhaps his most beloved album, and like many classic works by those in their early twenties, Morrison's youth defines these wistful, mystic meditations. This is one of those albums that can seem kinda lame to young people, who are the peak audience given the subject matter, until you actually sit down and really listen to it.