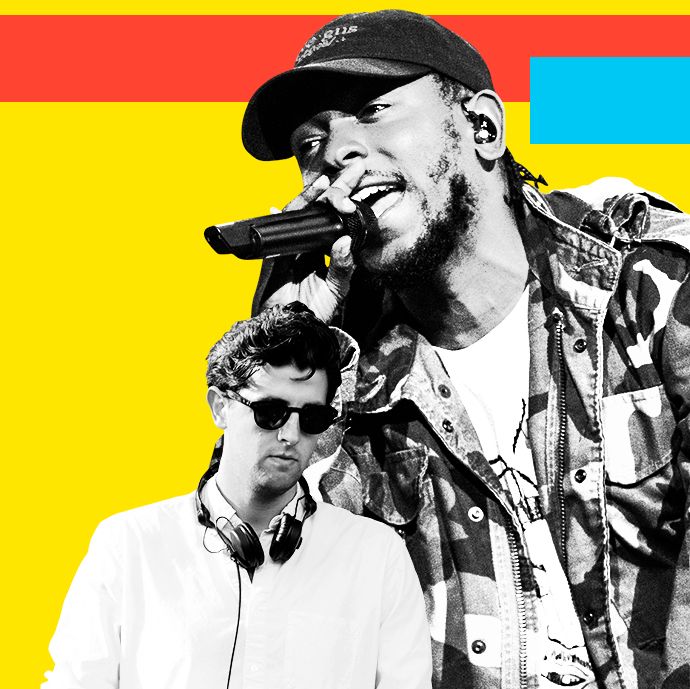 Photo-Illustration: Maya Robinson and Photos by Getty Images
This week, Vulture will be publishing our critics' year-end lists. Yesterday we posted TV and film. Today, we talk music and books.
1. Kendrick Lamar, To Pimp a Butterfly
To Pimp a Butterfly isn't a perfect album, but it's the one we needed most this year. That iconic cover says it all: a group of black men and boys in front of the White House, grinning with anarchic glee. But Compton rapper Kendrick Lamar's searing third album is as much an interrogation of institutional power as it is an interrogation of self. He stares into a cracked mirror on the nightmarish "u" and the blistering "The Blacker the Berry," and grapples with the capitalistic trappings of his fame on the funkadelic "Wesley's Theory." Kendrick spits with rat-a-tat-tat virtuosity, like he's tired of proving he's the most dexterous rapper in the game, but whenever Butterfly risks getting too caught up in his head, his band's deep grooves bring the whole thing back down to Earth, as though they've been blessed by that opening cameo from George Clinton.
As much as the labyrinthine Butterfly resists easy hooks, it also provides a potent reminder that sometimes the simplest refrains make the tallest waves. Some Black Lives Matter activists have taken from the song "Alright" a rallying cry of "we gon' be alright," chanting it at protests. In June, Kendrick gave an unforgettable performance of that song at the BET Awards, while standing atop a cop car. Afterward, some conservative pundits claimed that the song "incites violence," but Kendrick's response was as simple and sane as its chorus: "How can you take a song that's about hope and turn it into hatred?" To Pimp a Butterfly asks tough questions and refuses placating answers, but in the end it still offers up its own kind of weary hope for the post-HOPE generation.
2. Jamie xx, In Colour
"I go to loud places, to search for someone to be quiet with," xx vocalist Romy sings, summing up the contradiction at the heart of her bandmate Jamie's gorgeous debut solo record, In Colour. A dizzying swirl of ecstasy and melancholy, this is club music for shy people — not a raging party so much as a silent disco. Vocal samples haunt these tracks like ghosts: The pulsating opener "Gosh" finds a satisfying groove, before the dance floor is eerily evacuated by an air-raid siren synth. But there's a celebration toward the end, a collaboration with rapper Young Thug and dancehall artist Popcaan, the title of which feels like a hard-won promise: "I Know There's Gonna Be (Good Times)."
3. Jenny Hval, Apocalypse, girl
"One good thing about being a woman is that we haven't too many examples yet of what a genius looks like," Shelia Heti wrote in her 2012 anti-novel How Should a Person Be? "It could be me. There is no ideal model for how my mind should be." This is precisely the kind of subversive, hot-hot-pink freedom that emboldens the Norwegian artist Jenny Hval on her daring yet strangely tuneful record Apocalypse, girl, the first example of an imaginary genre she mischievously dubs "soft-dick rock." Is it a collection of avant-pop songs or a sprawling epic poem? I'm not sure it's either, but I know it was the boldest goddamn thing I heard all year.
4. Tame Impala, Currents
Spaceship-sleek and undeniably catchy, the terrific Currents finds Aussie band Tame Impala streamlining their sprawling, psychedelic sound into tunes you can actually dance to. Their sonic touchstones are as varied as they are unexpected: Chiming gem "The Moment" is the best song Phil Collins never recorded, "Eventually" features a crunchy, Black Sabbath–like riff, and the blast-off of an opener "Let It Happen" recalls Discovery-era Daft Punk. That it all blends together so seamlessly is a testament to the production prowess of the band's lead-singer/sonic architect, Kevin Parker.
5. Grimes, Art Angels
Three-plus years after her breakthrough album Visions, Claire Boucher, who records as Grimes, finally gave us her long-awaited self-recorded weirdo pop-opus. Art Angels ping-pongs between moments of sugar-rushing joy ("California," "Artangels") and fine-tuned aggression ("Scream," "Kill v. Maim"), and features guest spots from kindred spirits Janelle Monáe and the Taiwanese rapper Aristophanes. Even though it's the most polished Grimes album yet, it doesn't feel like an appeal to a larger audience so much as a handwritten declaration of independence.
6. Carly Rae Jepsen, EMOTION
This was the year Canadian crooner Carly Rae Jepsen effectively transformed herself from a one-hit wonder to an album artist, from a long-in-the-tooth teenybopper to a sleek pop sophisticate. Though Jepsen's a little too low-key to amass herself a #squad and declare herself queen of the pop game, these songs quietly did the whole '80s pastiche thing even better than Taylor Swift. From the anthemic opener "Run Away With Me" to the retro prom slow-dance "All That," Emotion was the best pure pop album of the year.
7. Jack Ü, Skrillex and Diplo Present Jack Ü
When EDM's merry pranksters Skrillex and Diplo released this free mixtape in March, it seemed like a lark — that name, that goofy intro track, and a song with … Justin Bieber? But somehow, it all works beautifully, if maniacally: The energy is frantic, the production is inventive as hell, and all the guests bring their most bonkers game (quoth 2 Chainz: "Yeah, I'm the shit/I should have Febreze on me"). Though it's now best known for "Where Are Ü Now?," the masterful sad-boy banger that rehabilitated Bieber's career, the rest of the album is just as enjoyable, from the moody collaboration with AlunaGeorge to Kiesza's antic hook on "Take Ü There." The whole thing's a time capsule of what fun sounded like in 2015.
8. Sufjan Stevens, Carrie & Lowell
This year, no song broke my heart more brutally than "Fourth of July," Sufjan Stevens's haunting ode to his terminally ill mother, which ends with a devastating, plainspoken refrain: "We're all gonna die." The whisper-quiet, unflinchingly autobiographical Carrie & Lowell is a fractured portrait of Stevens's troubled, absent mother, long-suffering stepfather, and the broodingly observant child left to tell their story. Though Stevens has assembled grander narrative arcs in the past, particularly with his since-abandoned 50 States project, this more intimate work is without a doubt his most harrowing.
9. Tenement, Predatory Headlights
Wisconsin's Tenement sometimes get called a pop-punk band, but that's a misnomer — if only because that descriptor usually conjures visions of three-chord songs that clock in under three minutes. But on the brilliant double album Predatory Headlights, Tenement is after something more ambitious: Tuneful, jangly power-pop gems ("Dull Joy," "Whispering Kids") sit alongside jazzy experimentation and evocative sonic collages.
10. Drake, If You're Reading This It's Too Late
Drake dominated 2015 without even really trying. His tossed-off digital release "Hotline Bling" became his highest-charting single, and this surprise-released mixtape was the first album of the year to sell more than one million copies. Though If You're Reading This sags a bit in its middle section, its highlights feature some of Drizzy's fiercest-ever bars ("6PM in New York") and era-defining hooks ("10 Bands," "Know Yourself"). If these are just the B-sides, I can't wait to hear the A-material on his long-awaited fourth album.