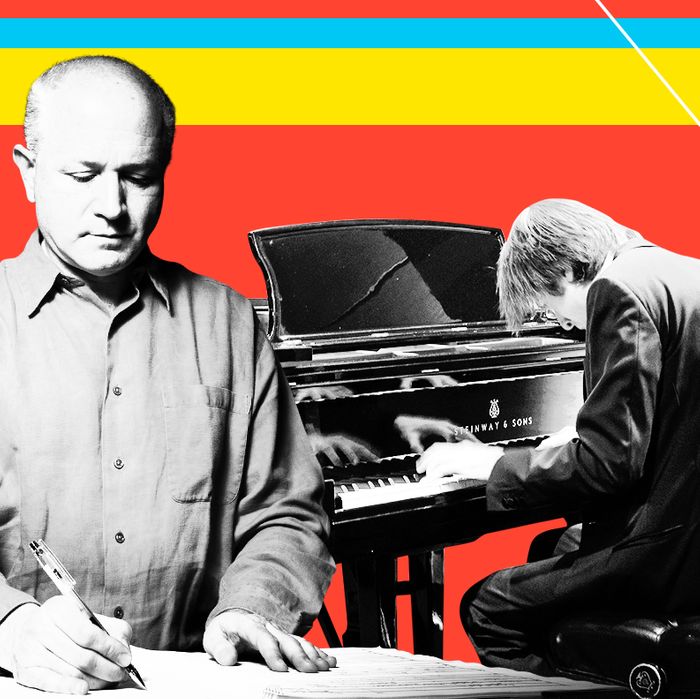 Photo-Illustration: Maya Robinson and Photos by Chris Lee, Matt Lloyd and Photo by Daniel Cassady/Courtesy WQXR
This week, Vulture will be publishing our critics' year-end lists. Monday we ran TV and movies. Tuesday covered albums, songs, and books. Today, look for theater, art, and classical performances.
1. Written on Skin
Leave it to the Mostly Mozart Festival to sneak the year's boldest musical stroke into the space left by that word mostly. George Benjamin's 2012 opera is distantly Mozartian in the precision of its craft and the way the score elaborates the characters' emotional logic. That justified a quick summer run — one of perfectionist bravado, stunningly performed. With one foot in a medieval tale and the other in the present, it celebrates and warns against the scorching power of creative work and the destructive power of talent. A wealthy boor with a bored wife makes the mistake of hiring a cultivated young man to do what he cannot: write and illustrate a book. The result is a domestic boil of lust, envy, and hate. At the same time, the production pointed up the chasms in our operatic terrain. We have no natural habitat for works too specialized for the Met and too daunting for pebble-size companies.
2. National Sawdust's opening night
A campfire clearing, a huge stadium — each shapes its music, and embodies a genre's idea of itself. That's why this high-tech hall in an old factory is a big deal. It brings composers and musicians to a purpose-built spot where they can swap fantasies and help each other out — a safe space for fearless music.
3. Lulu
Despite James Levine's love for Alban Berg's Lulu, it has been a sporadic presence at the Metropolitan Opera. It's not clear what's scarier: the creeping nihilism, the body count, or the 12-tone score. Levine had to sit out this new production, but Marlis Petersen's performance and William Kentridge's hyperactive images powerfully argued for its quick return.
4. Joan of Arc at the Stake
Under Alan Gilbert, the New York Philharmonic became an indispensable provider of music drama. Arthur Honegger's oratorio-with-dialogue may not quite be an opera, but Côme de Bellescize staged it as a full-scale theater event, complete with Play-Doh-colored costumes and Marion Cotillard.
5. Rachmaninoff Piano Concertos
The lanky young Russian pianist Daniil Trifonov has the competition wins, the wiry fingers, and the repertoire to pass as an old-style virtuoso. He headlined the Philharmonic's Rachmaninoff festival, but listeners expecting to be strafed with notes were in for a surprise. Trifonov teased out the undercurrents of sensitivity beneath the showy swells.
6. Il Trovatore
A baritone gets used to supporting roles — unless he's Dmitri Hvorostovsky, whose singing can alter the circuitry of an opera so that all the current runs through him. He had to take a break from treatment for a brain tumor to sing Count di Luna, but he didn't need an audience's indulgence or the extra drama; he needed only to sing as though it mattered, which it did.

7. Anywhere in Time: A Conlon Nancarrow Festival
At the Whitney Museum's tribute to this oddball genius of a composer, a player piano inanimately produced some of the most vital American music of the 20th century. There were concerts, too, but those explosively complex hand-punched rolls best captured his spirit: He never trusted human fingers to play what he had in his relentlessly idiosyncratic mind.
8. Susanna Mälkki
Finland turns out a disproportionate number of gifted musicians, including two theoretically splendid options to succeed Gilbert at the Philharmonic in 2017. One is the overbooked Esa-Pekka Salonen. The other is Mälkki, who, by the time she made her Philharmonic debut in a limpid performance of Brahms's First Piano Concerto with Kirill Gerstein, was already committed to another job. Who else ya got, Finland?
9. Mark Padmore sings Schubert
With a voice like an Alpine stream and an equally bracing intellect, Padmore sang Schubert's three major song cycles — Die Schöne Müllerin, Schwanengesang, and Winterreise — at Lincoln Center's White Light festival. There wasn't much room for spontaneity: Each breath was weighed, each syllable polished. But the miracle of Schubert's songs is that the passion and craftsmanship intensify each other.
10. Semele
Experiencing Zhang Huan's production of Handel's opera at BAM was a little like listening to the soundtrack of one movie while watching another — a Baroque tangle of impossible love between gods and mortals laid over a spectacle of non sequiturs (sumo wrestlers, an ancient temple rebuilt onstage). It all worked, fueled less by logic than by sublime nonsense.
*This article appears in the December 14, 2015 issue of New York Magazine.