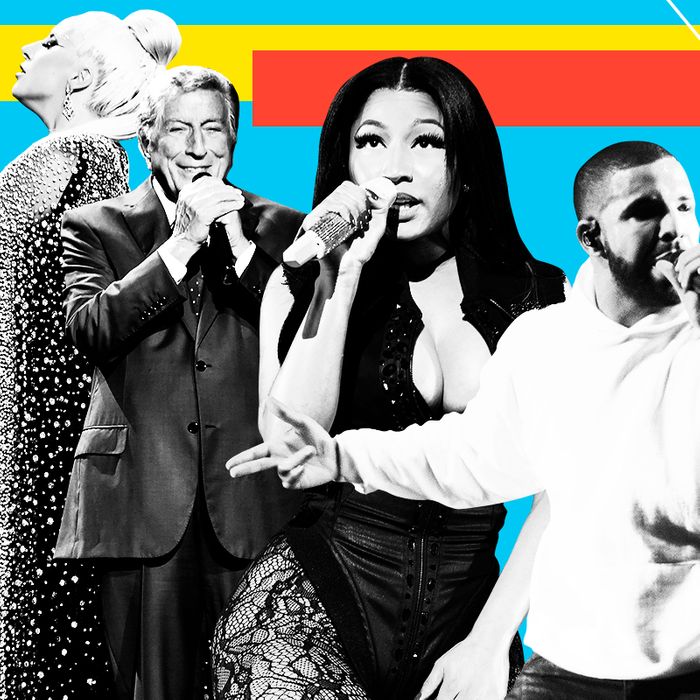 This month Vulture will be publishing our critics' year-end lists. So far we've covered TV, movies, albums, songs, books, theater, art, classical performances, and video games. Today we add podcasts and concerts*.

1. Tony Bennett and Lady Gaga at Radio City Music Hall (June 22)
A stirring, stunning homecoming for two New York legends — one reigning and one rising. The night's most goose-bump-inducing moment was a tie between an elegant, post-Oscar-performance-redemption Gaga slaying "La Vie en Rose" and the incomparable Tony belting out "Fly Me to the Moon," dedicated to his old friend Frank.
2. Jenny Hval at Basilica Soundscape Hudson (September 12)
Basilica Soundscape in Hudson is fast becoming one of my favorite music festivals, because unlike the sensory overload of larger gatherings, it's refreshingly chill. Readings and art exhibits mingle seamlessly with music, and Norwegian songwriter Jenny Hval's wonderful performance felt like a combination of all those things. While reciting the lyrics to her strange, spoken-word–PJ Harvey–esque incantations, she bounced on an exercise ball, doused herself in fake blood, and at one point took out her phone and recorded a video of the audience as we watched one of her backup dancers — a swaying Greek chorus of thrift-store brides — sing a very punk-rock cover of a Lana Del Rey song. Our expressions, I'm sure, were some combination of confusion, surprise, and irrepressible delight.
3. Sleater-Kinney at Terminal 5 (February 26)
Sleater-Kinney's comeback tour could have easily been a placid, self-congratulatory victory lap, but onstage, two decades into their reign, the band is still as hungry as ever. Janet Weiss booms behind the kit like a statue come to life, Carrie Brownstein plays the rock star with a sparking, twitchy energy, Corin Tucker channels that one-in-a-million voice from somewhere else. For once in my life, I did not complain about making the trek home from Termiserable 5.
4. Blur at Madison Square Garden (October 23)
One of just two U.S. dates on their tour for The Magic Whip, Blur illuminated the Garden with soccer-chant-volume sing-alongs of their stacked back catalogue. Undisputed highlight: When a teen girl plucked from the audience nailed every word to Phil Daniels's spoken-word verse of "Parklife." That's entertainment!
5. Drake at Governors Ball (June 5)
Live performance has never been one of Drake's strengths, but his triumphant and energetic show headlining Governors Ball proved an exception. Never underestimate the power of an entire island's worth of people screaming, "WITH MY WOES!"
6. Buffy Sainte-Marie at the Highline Ballroom (May 20)
This year the indomitable Buffy Sainte-Marie won Canada's prestigious Polaris Prize, deservedly, for her nervy record Power in the Blood. Her show at the Highline Ballroom proved she's as vital as ever, and that plenty of her searingly humane antiwar classics (particularly "Universal Soldier") remain depressingly relevant.
7. Florence + the Machine at Music Hall of Williamsburg (May 25)
For a decent chunk of this year, Florence Welch had a broken leg. It was oddly riveting to see such an energetic performer confined to a stool, visibly trembling with intensity to spare. SNL viewers got to experience this during her terrific performance of "What Kind of Man," but I feel lucky to have had a chance to see it in a venue as small as Music Hall of Williamsburg, where Welch turned songs of angst and pain into cathartic, beautiful sing-alongs.
8. One Direction at MetLife Stadium (August 5)
Perhaps the most anxiety-inducing moment of my year was when I found myself standing outside of MetLife Stadium one evening with an extra ticket to a sold-out One Direction concert. Hundreds of girls and their moms (and one brave man in a homemade shirt that said "DIRECTIONER DAD") were camped out in the futile hope that they'd release some tickets at the last minute. A pack of high-school girls cursed out a woman behind a ticket window who'd given them bad news; I hope there is a special and really fantastic corner of Heaven for people who have to work the ticket window at a sold-out One Direction concert.
I wanted to give my spare ticket away to someone, but how could I possibly choose just one person? Most girls were there in pairs, and I knew I could potentially ruin a best-friendship forever if I walked up to two teens and said, "Well, I have one extra floor-seat ticket, which one of you wants it?" Maybe I should give it to a mom? I would give it to a mom. I tried to single out one of them, but as soon as I said, "Does anybody need just one ticket?" a whole pack of moms descended like vultures. Then the moms parted, and out of them emerged a lone teen. "I do?" she said meekly, and then asked, "How much?" I told her that I was a music critic and that I would probably lose my job if it was revealed that I had charged a teen girl money for an extra One Direction ticket. She immediately burst into tears. "Can I hug you?" she asked through sobs.
Her name was Kristen, and 1D had been her favorite band since sixth grade, which, she explained, was a very long time ago. We shook our heads about a very rude sign we saw, that read "We don't even WANT Zayn back." She explained to me something I would have to have been deaf not to realize by the end of the night, which is that One Direction are a band who make a lot of people very, very happy. Or, were a band, maybe. Sorry, Kristen. I was worried about you, a few months ago, when One Direction announced their hiatus. I hope you've not taken the news too hard.
9. Nicki Minaj at Barclays Center (July 26)
Specifically, the moment when Nicki played a bunch of old mixtape cuts in a row and New York did New York proud by rapping along to every single word, cheering much louder than they did for "Starships" or "Anaconda," and much, much louder than her theatrical stage-kiss with Meek Mill. Brooklyn, we go hard.
10. Father John Misty at WNYC (February 11)
As Father John Misty, Josh Tillman's live shtick is half performance art, and thus it was best experienced during a live taping at WNYC, where he was interviewed between songs and had a chance to lob dry sass and non sequiturs at poor John Schaefer. In reference to the oft-repeated fact that Josh Tillman came up with his alter ego during a mushroom trip, Schaefer asked if he'd read that New Yorker story about the possible neurological benefits of psychedelics. "I already read that years ago," Tillman said, like an insolent teenage Dylan, "in Duh magazine."
*The list was selected from the concerts that Lindsay was able to attend this year, which was a considerable number. All of them were at New York venues.