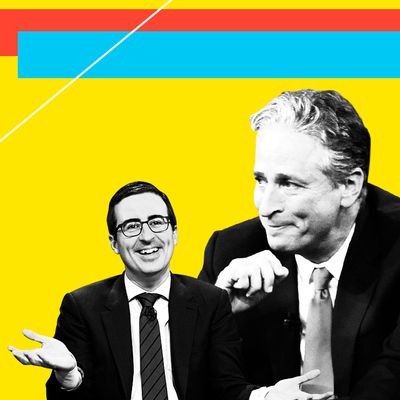 Photo-Illustration: Vulture and Photos by HBO and Getty Images
This month Vulture will be publishing our critics' year-end lists. Last week's lists included albums, art, and video games. This week we've covered comedy — sketches, specials, and podcasts — plus Margaret Lyons's top shows, Bilge Ebiri's top movies, and music videos and memes. Now it's on to late-night clips, comic books, graphic novels, and album reissues.
1. Stephen Colbert thanks Jon Stewart
For over a decade, Jon Stewart defined how an entire generation of viewers got their news, using comedy to cut through the political rhetoric of the Bush administration and the media spin cycle. Under his tenure, The Daily Show also became a launching pad for a current crop of late-night hosts including Stephen Colbert, Trevor Noah, Larry Wilmore, and Samantha Bee. So, on Jon Stewart's final day as the host of The Daily Show, it was more than appropriate that his friend and former colleague Stephen Colbert finally said what we all wanted to say: thank you.
2. David Letterman's final Top 10 list
Jon Stewart wasn't the only host with a final show this year. David Letterman, who had surpassed his mentor Johnny Carson as the longest-serving host in the history of late night, ended his own run in May with a farewell that was typically unsentimental. "Save some for my eulogy," he quipped during his final monologue. Better still were the celebrity friends who sent him off with a final Top 10, "Top 10 Things I've Always Wanted to Say to Dave." There was everyone from Bill Murray to Jerry Seinfeld to Tina Fey, but it's Julia Louis-Dreyfus's joke that we'll cherish the most: "Thanks for letting me take part in another hugely disappointing series finale."
3. John Oliver's pitch-perfect response to the Paris attacks
Last Week Tonight host John Oliver doesn't make it his business to respond to daily events, but the attacks in Paris were too devastating to ignore. He was appropriately furious, calling the attackers "assholes" and reminding everyone that waging a culture war on France, land of the croquembouche, was a losing battle. What was most refreshing was how Oliver refused to jump to hasty conclusions or use the attacks as an opportunity to engage in some good old-fashioned fearmongering.
4. Jimmy Fallon and Nicole Kidman's awkward first date
Apparently, it was Nicole Kidman who had a crush on Jimmy Fallon, and it was Jimmy Fallon who just wore a baseball cap, put out some brie and leftover Chinese food, and played video games for their first date. The entire exchange is delightfully awkward, and it's obvious why these two were never going to work out.
5. Colbert trolls the CBS censors
Maybe it's our own nostalgia for The Colbert Report, but Stephen Colbert seems to be at his best when he gets to show just how asinine something is. In this case, his target is the CBS network censors themselves, which are convoluted and nonsensical when it comes to the line between art and nudity. He expertly demonstrates just how silly the whole thing is by drawing a smiley face.
6. Tracy Chapman sings "Stand by Me" for David Letterman
The singer-songwriter made a rare television appearance to sing one of David Letterman's favorite songs from his youth, the Ben E. King classic,"Stand by Me." It's an understated and tremendous performance, and, like the best of Chapman and Letterman, never gets old.
7. Seth Meyers's "A Closer Look" at Republican attacks on Planned Parenthood
Late night is getting serious. Since taking over Late Night, Seth Meyers has veered away from the lighter fare of Jimmy Fallon and gotten behind the desk to dig into politics like Jon Stewart. Thus, he started his "A Closer Look" segments, which take deeper dives into political topics the way that John Oliver does on Last Week Tonight. This segment on the Republican congressional hearings on Planned Parenthood was incisive, damning, and completely necessary.
8. Conan visits the rum museum in Havana, Cuba
In keeping with the trend of late night going long-form, Conan O'Brien made his first trip to a foreign country in the name of comedic diplomacy (he would later go to Armenia). "There are some really good comedy moments in there, but also it's just, let's take this guy that we know and put him in this situation but maybe learn at the same time," O'Brien told Vulture after he returned from his trip. This visit to Havana's rum museum is perfect in large part due to the fact that the tour guide couldn't believe she had to indulge this silly redhead.
9. James Corden's carpool karaoke with Stevie Wonder
Theater geeks, rejoice! James Corden's show is essentially becoming partially like The Graham Norton Show with its group chats and musical-theater segments. Corden's best recurring bit has been carpool karaoke, where he tools around with a famous musical artist and sings their songs with them. There have been some great ones, but there's a moment during this ride with Stevie Wonder when Corden tears up as Wonder sings "I Just Called to Say I Love You" to Corden's wife Julia Carey that is just a little bit of magic.
10. Rihanna pranks Jimmy Kimmel for April Fool's
Who better to prank than the late-night prank prince himself, Jimmy Kimmel? And who better to do the pranking than Rihanna dressed up as a futuristic goth on the prankiest day of the year?