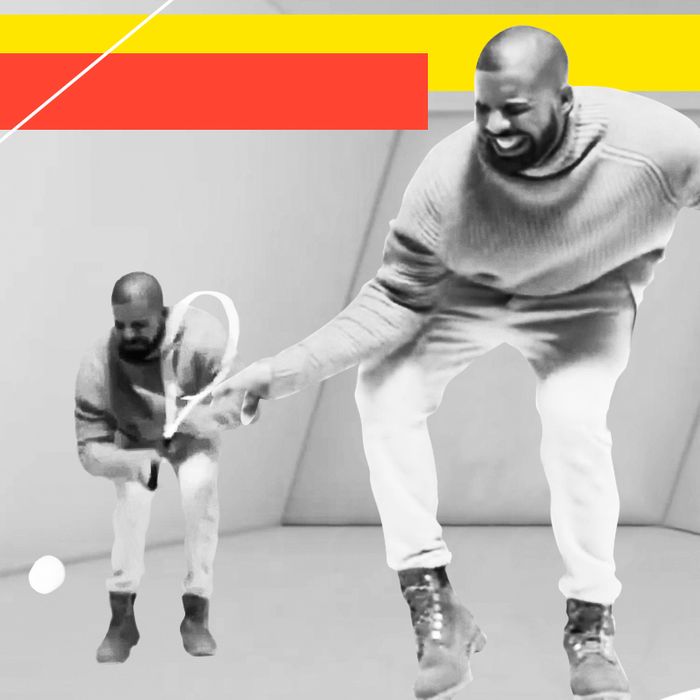 This month Vulture will be publishing our critics' year-end lists. Last week's lists included movies, albums, art, and video games. This week we started with comedy: sketches, specials, and podcasts. Today we have Margaret Lyons's top shows and Bilge Ebiri's top movies, plus music videos and memes.
1. "Hotline Bling"
Adele's sales records aside, Drake was the most important person in pop culture this year (mostly because Beyoncé didn't drop an album). There have been countless Drake memes throughout 2015, but none was bigger than those birthed from the "Hotline Bling" music video. Drake knows the internet, and he made that music video specifically for the it — because he knows that being in on the joke pays dividends.
2. Netflix and Chill
When BuzzFeed hops on a meme, it can indeed go viral, as the phrase Netflix and Chill proved. Chill as a surreptitious invite for sex has been in the lexicon for years, but with Netflix tacked on, the idea of a casual movie night in becomes something much more enticing. The phrase Netflix and Chill spawned various lists about what happens to anyone who queues up Orange Is the New Black but really wants to entertain in the boudoir. The mutation of this meme proved its ability to endure, when the phrase "[X] minutes into [Netflix or any other activity] and chill and he gives you this look" became the new go-to.
3. Katy Perry's Left Shark
Katy Perry's Super Bowl halftime show had a lot of spectacle, including the return of Missy effing Elliott. But remember what else it had? Dancing sharks. And one shark in particular, the left shark, was just a little bit better at dancing. So much so, in fact, that it became a meme overnight. We're talking a social-media frenzy, T-shirts being sold with the left shark, publicists frantically typing out left-shark pitches — you know, standard practice when something blows up unexpectedly.
4. Lil Mama Crying
What made this one of the best memes of the year was not that it was the funniest meme ever, but because it came with a nice dose of controversy. It comes from an interview on Power 105.1 FM's radio show "The Breakfast Club," where Charlemagne badgered Lil Mama about her mother dying of colon cancer in 2007. Lil Mama breaks into tears — and thus, somehow, a meme was born that was pretty hilarious if you didn't know the context. If you did, it was kinda ghoulish, but did that make the meme any less funnier? Lil Mama was a good sport about it despite not having to be, and she shared her own version of the meme on Instagram. So, thankfully, we're all absolved. That's how it works, right?
5. Jessie J
Jessie J, the Penelope Pitstop of the music industry, can never seem to catch a break. She had a hit song with "Bang Bang" in 2014, but most people think it's an Ariana Grande song featuring Nicki Minaj and also Jessie J shows up to wail a bit. She's actually a great singer, though, which makes it appropriate that a video of her singing "Nobody's Perfect" became a Twitter meme once the truncated clip of her repeatedly singing the word no"was used to describe every situation you really wanna say "hell, no" to.
6. What's Good?
Nicki Minaj calling out Miley Cyrus at the 2015 MTV Video Music Awards was the shot heard 'round the world. The week before the show, Miley, in a New York Times story, had belittled Nicki's calling out of apparent racism in the VMA nominations. Miley thought she'd get away with it until Nicki clapped back on live TV, saying, "And now, back to the bitch that had a lot to say about me in the press the other day. Miley, what's good?" Miley's shocked face, Nicki's taunting face, and the audience's stunned reactions all swirled around to create a jumbo meme. You could ask anybody "What's good?" now using a GIF of Nicki Minaj. Bless her.
7. Pope Bars
Back in 1990, Madonna had to chant "Strike a pose" to encourage a dramatic stance, but in the days of Twitter fingers, any and every pose can become a meme, dramatic or not. Pope Francis, as it were, often creates poses that make you think he's about to drop bars. Every few months, the Pope delivers a new pose that can be interpreted this way. But at the end of November, when possibly the best-ever "the Pope looks like he's rapping" photo surfaced, the hashtag #PopeBars was born.
8. Drake vs. Meek Mill
Here's a thing that happened: Meek Mill didn't think Drake was promoting Meek's album enough, being that Drake was featured on it. Meek called out Drake, saying he doesn't write his own raps. Drake responded with some ethering diss tracks. Meek's diss track in response was trash. The internet picked sides (mostly Drake's, but he'd win anyway, even if his responses were wack, because duh, the internet loves Drake), and so many memes were born. Drake took things a step further and performed his song "Back to Back" at OVO Fest with Meek Mill memes projected on the screen behind him. Savage.
9. "Still Did Her Job" Kim Davis memes
Kim Davis, the county clerk from Kentucky who refused to hand out marriage licenses to same-sex couples, was appropriately dragged for her homophobia, but also for not doing her damn job. Thus, the internet was quick to respond with plenty of people — like Dana Scully, who never believed in aliens on The X-Files — who still did the jobs they were paid to do despite not liking them.
10. Pizza Rat
One summer day, a rat found a slice of pizza in a New York subway station. It struggled to get the pizza away from the crowds so it could enjoy greasy cheese in private. New Yorkers felt bonded to this rat, of course, because our lives are often miserable — but dammit if we don't keep up the beautiful struggle.
Postscript:
11. In response to erroneously leaving the "Why You Always Lying?" meme off the list, the only response is: